Jumbo Shrimp to hold food & beverage job fairs on Feb. 1 & 11
Club seeks candidates for seasonal food and beverage positions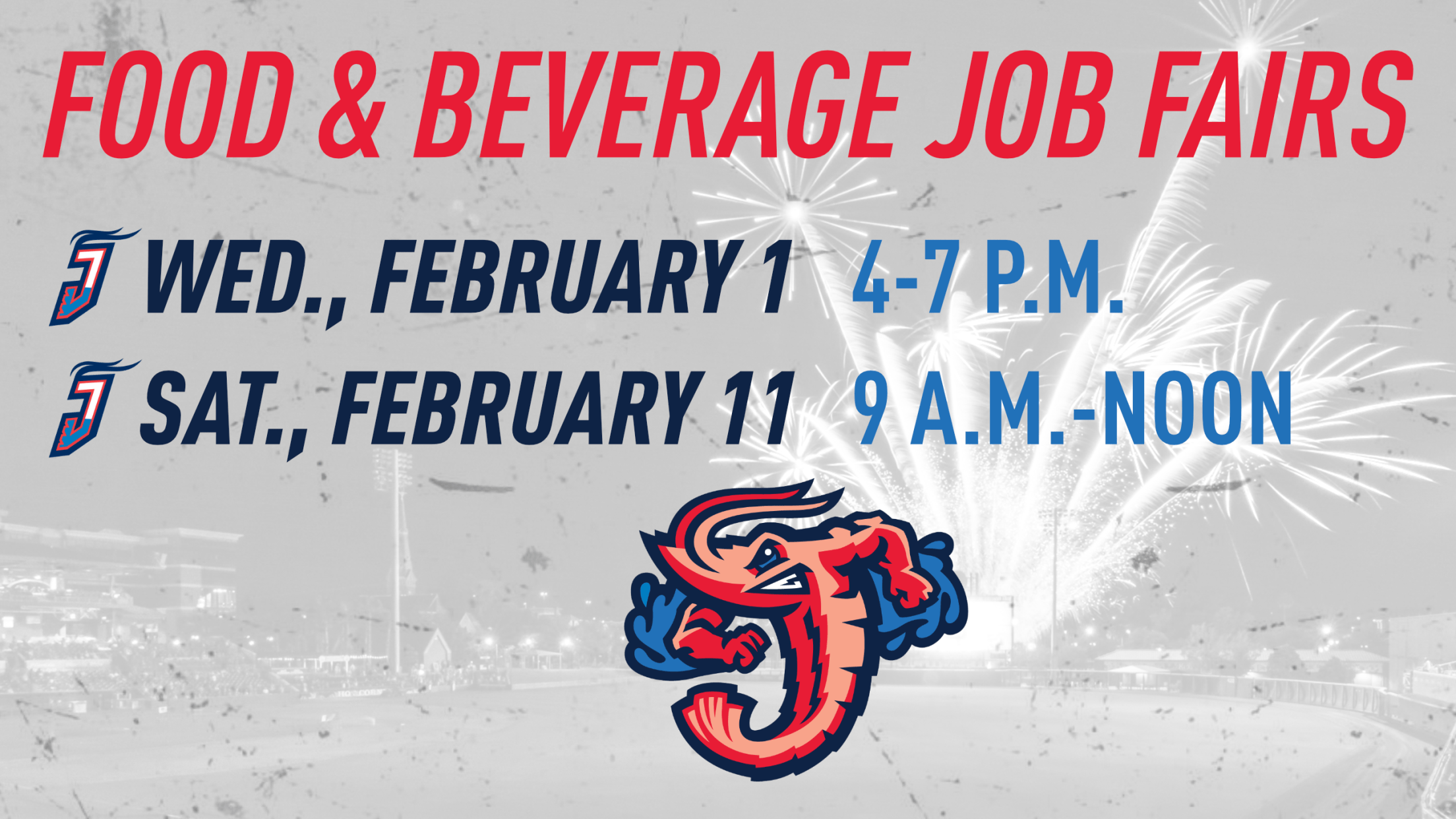 JACKSONVILLE, Fla. – With the Jacksonville Jumbo Shrimp's 2023 season of Affordable Family Fun on the horizon, the club has set two job fairs in February for 2023 seasonal food and beverage positions at 121 Financial Ballpark. The Jumbo Shrimp will host job fairs from 4-7 p.m. on Wednesday, February
JACKSONVILLE, Fla. – With the Jacksonville Jumbo Shrimp's 2023 season of Affordable Family Fun on the horizon, the club has set two job fairs in February for 2023 seasonal food and beverage positions at 121 Financial Ballpark.
The Jumbo Shrimp will host job fairs from 4-7 p.m. on Wednesday, February 1 and 9 a.m.-noon on Saturday, February 11 at 121 Financial Ballpark.
The Jumbo Shrimp are seeking candidates for:
Premium In-Seat Server
Concessions Lead
Concessions Floor Supervisor
Warehouse Coordinator
Suite Attendant
Concessions Attendant
Cook
Bartender
Warehouse Worker
Party Deck Attendant
Vending Hawker
Kitchen Utility
Kitchen Lead
Office Coordinator
Clean Team
Interested applicants may find full position descriptions and an application form at www.jaxshrimp.com. Applicants may bring a completed application to the job fair. All applicants should be prepared to interview at the job fairs and are encouraged to bring a resume and dress appropriately. Potential employees are subject to a background check.
Parking for the events will be in Lot P and applicants may enter through the Home Plate Gate at the corner of A Philip Randolph Blvd. and E. Adams St.
Open positions are for seasonal employment, including but not limited to 75 Jacksonville Jumbo Shrimp home baseball games, additional stadium events and training.
The Jacksonville Jumbo Shrimp are an equal opportunity employer.
ABOUT THE JUMBO SHRIMP: The Jacksonville Jumbo Shrimp offer affordable family fun at 121 Financial Ballpark. Their inaugural season garnered the Southern League's Don Mincher Organization of the Year, Promotional Trophy and Jimmy Bragan Executive of the Year, won by general manager Harold Craw. The club added its second Promotional Trophy in three years following the 2019 season. The 2021 season marked the return of Triple-A baseball in Jacksonville. To experience the excitement with the terrific value of ticket and group options, call the Jumbo Shrimp at (904) 358-2846 or visit www.jaxshrimp.com.