Pelicans Hit Three Home Runs, Down Mudcats 8-2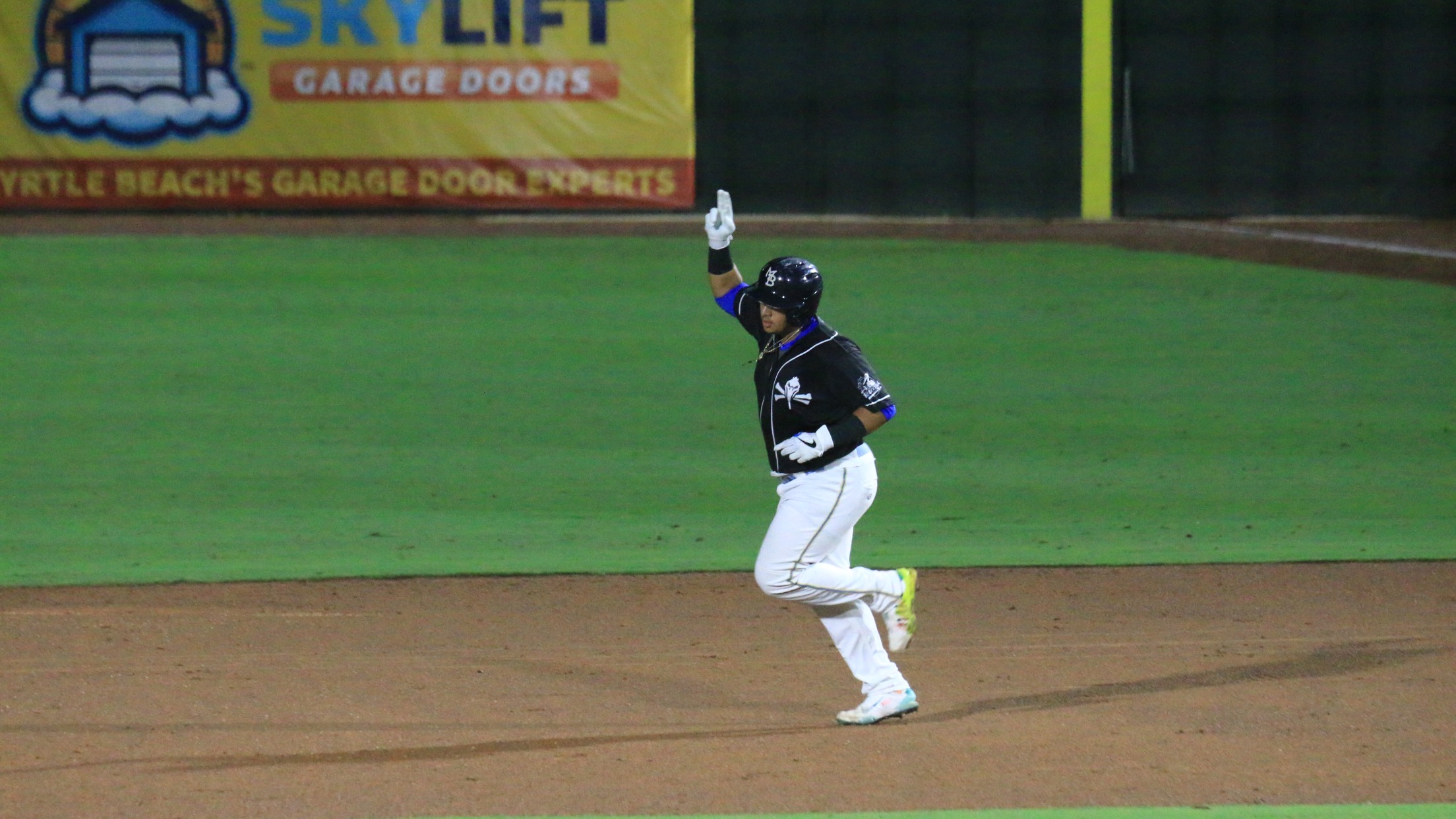 (Larry Kave/Myrtle Beach Pelicans)
Eight of the 12 Myrtle Beach hits were extra
Eight of the 12 Myrtle Beach hits were extra
By Sam Weiderhaft
Off the power of three home runs, four doubles, and a triple, the Myrtle Beach Pelicans won their third game in a row and the second of the series against the Carolina Mudcats 8-2 on Thursday night. The win moved the Birds to a 77-51 record, and 30-32 in the second half. The Mudcats dropped to 67-61 with a 33-29 second-half record.
The hot hitting for Myrtle Beach continued as three Pelicans went deep. Moises Ballesteros (1-4, HR, 2 RBI), Ethan Hearn (1-2, HR, 2 RBI, BB), and James Triantos (2-4, HR, 2 RBI) all hit home runs and brought in six runs combined. Parker Chavers (3-5, 2 2B, RBI) collected three hits with a pair of doubles and an RBI. Haydn McGeary (3-5, 2 2B) also hit two doubles with a run scored.
Four pitchers held the Mudcats to just three hits and three walks with Gregori Montano (2-2) taking the win with 1 1/3 scoreless frames. Saul Gonzalez followed with a strikeout through his 1 2/3 innings, and Brody McCullough finished it off by striking out three of the four batters he faced. Starter Grant Kipp threw just shy of five innings with two earned runs and four strikeouts.
With only three hits, Carolina put just two runners in scoring position and left four on. Robert Moore (1-4, HR, RBI) hit a solo home run and Jace Avina (0-3, RBI) hit a sacrifice fly in the top of the fourth.
Max Lazar (0-1) took his first loss of the season with three runs, two earned allowed in hit three innings of work while giving up five hits including a home run. Edwin Jimenez allowed two home runs and five runs, four earned through three innings.
Just like Tuesday night, the Pelicans scored three runs in the bottom of the third to take an early lead. Following a McGeary double, Ballesteros hit a two-run home run to left-center field for his third of the season. After Triantos singled and later moved to third, Hearn brought him in on a sacrifice fly to center to extend the lead to 3-0.
Carolina got back with a two-run top of the fourth inning. After Eric Brown Jr. led off with a double and ended on third after an error, Avina lifted a sacrifice fly to right-center field that was caught by Chavers as Brown came home. Later in the inning, Moore hit a two-out solo home run over the wall in right to cut the lead to 3-2.
The Pelicans pulled away with five runs in the sixth, seventh, and eighth innings. Hearn led off the bottom of the sixth with his 10th home run of the year to right field. Felix Stevens hit a sacrifice fly later in the frame to move the Birds' lead to 5-2.
In the bottom of the seventh, it was a two-run home run by Triantos to the bleachers in left field for his seventh of the year to make it 7-2. Chavers finished it off in the bottom of the eighth with his second double of the game to left-center to score Liam Spence for an 8-2 Myrtle Beach lead.
Friday night will feature game three of the series at 7:05 p.m.