Fireflies Bats Quiet in 4-0 Loss
Columbia blanked in back-to-back for first time since June 2022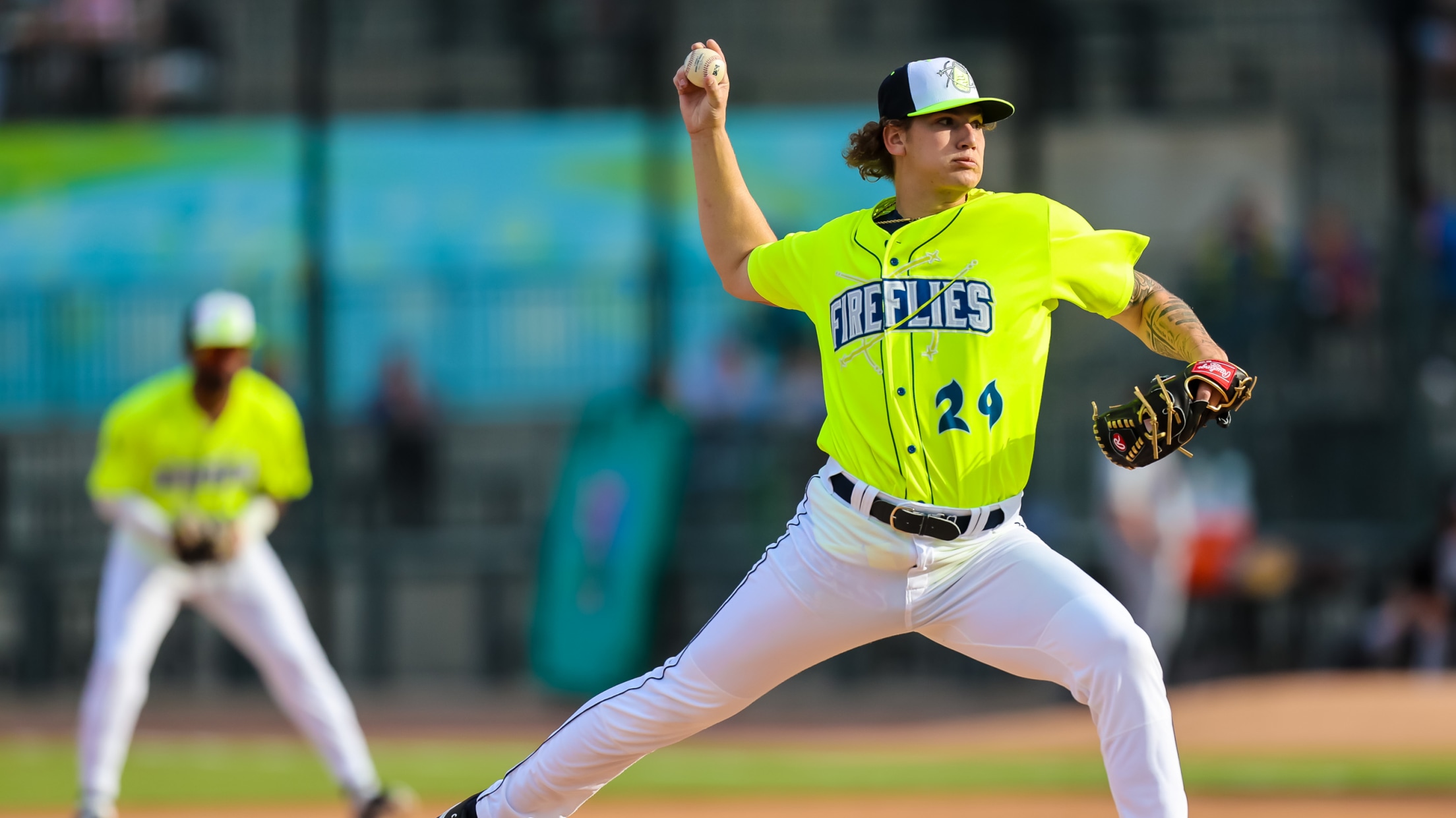 COLUMBIA, SC – The Fireflies offense was held scoreless for the second-consecutive night as they fell to Down East 4-0 Wednesday at Grainger Stadium. After spinning four hitless innings, Fireflies starter Ben Kudrna (L, 4-3) walked away with the loss, giving up three runs, only two of which were earned
COLUMBIA, SC – The Fireflies offense was held scoreless for the second-consecutive night as they fell to Down East 4-0 Wednesday at Grainger Stadium.
After spinning four hitless innings, Fireflies starter Ben Kudrna (L, 4-3) walked away with the loss, giving up three runs, only two of which were earned in the fifth inning. The righty finished the game with a career-high nine punchouts countered with only one walk. He allowed four hits, all in the fifth inning.
Tommy Specht started the scoring for Down East, with an RBI triple that scored Yosy Galan. Next, both Griffin Cheney and Yeison Morrobel collected two out RBI singles to put Down East on top 3-0.
Ben Sears and Eduardo Herrera didn't allow an earned run in three combined innings, but after the defense gave Down East a fourth out in the seventh, Cheney was able to strike for another two out RBI to give Down East a 4-0 lead.
Aidan Curry (W, 3-1) had an excellent start, spinning six frames, allowing two hits and matching Kudrna with nine whiffs. Aftert that, DJ McCarty and Wyatt Sparks were able to close out the game with three scoreless from the pen.
The Fireflies have not scored since the first inning of the second game of the doubleheader against Charleston. It's been 23.1 innings since Columbia has scored a run. Today marks the first time the club has been shut out in back-to-back games since June 4-5, 2022 when they lost 1-0 and 4-0 to the Myrtle Beach Pelicans at Segra Park.
Columbia continues their series vs the Down East Wood Ducks tomorrow night at 7 pm. Southpaw Frank Mozzicato (1-2, 2.18 ERA) gets the nod for Columbia and Down East counters with RHP Jose Montalvo (3-0, 2.08 ERA).
The Fireflies will return home to Segra Park June 6 to welcome the Salem Red Sox to town. The Fireflies will host RiverBanks Zoo and Garden Night with a Carter Jensen Lion Bobblehead Giveaway presented by Safe Federal Credit Union Friday, June 9. Tickets are still available at FirefliesTickets.com.