Eight-Run Rally Falls Just Short Saturday
The Fireflies score seven in the last two innings vs Carolina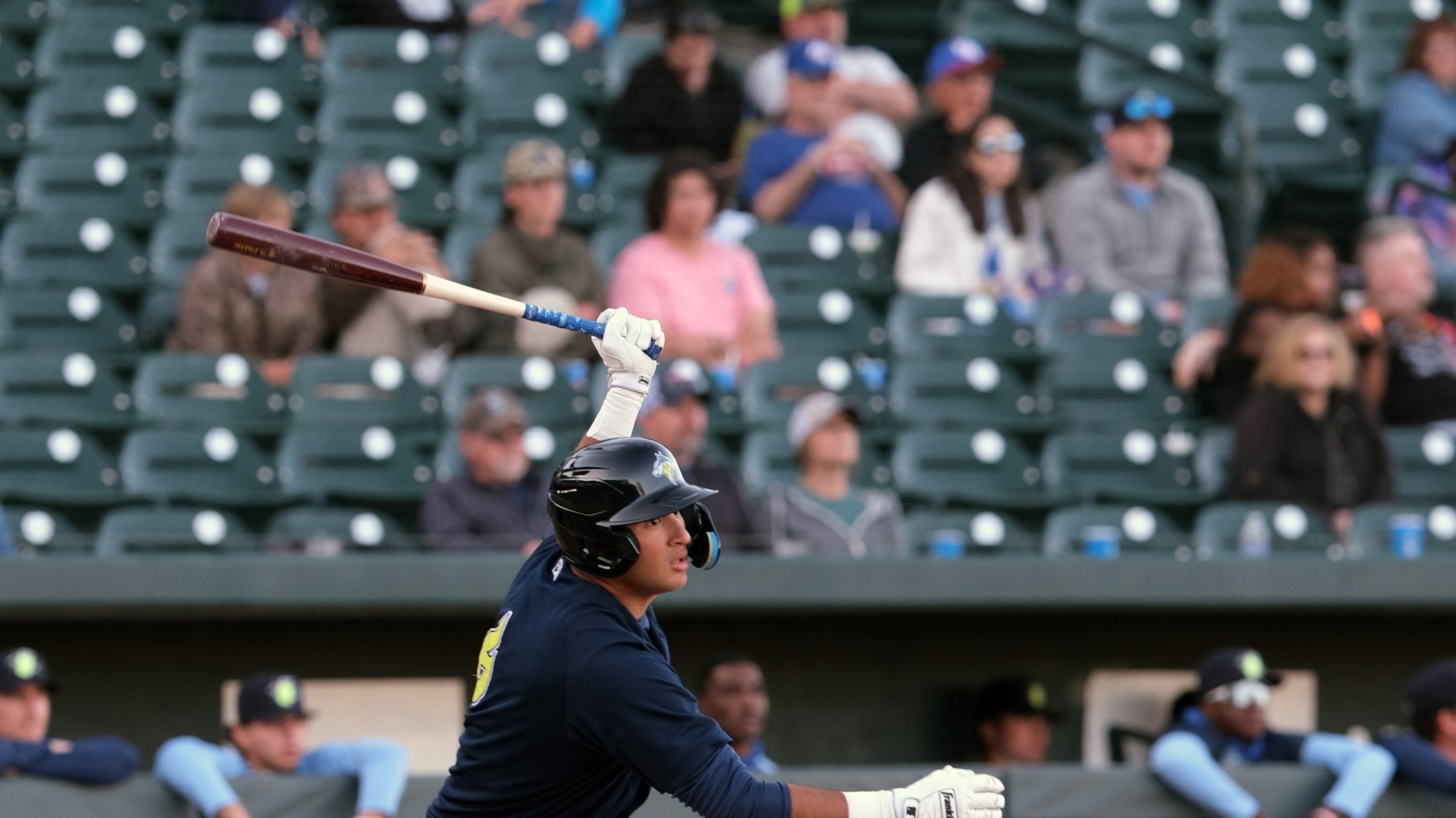 COLUMBIA, SC – The Fireflies entered the eighth down 8-0, then rallied and came up one run short of tying the game, losing 8-7 vs the Carolina Mudcats Saturday night at Five County Stadium. Down 8-0 in the eighth, the Fireflies (33-25) bats began to rally. With one out, Javier
COLUMBIA, SC – The Fireflies entered the eighth down 8-0, then rallied and came up one run short of tying the game, losing 8-7 vs the Carolina Mudcats Saturday night at Five County Stadium.
Down 8-0 in the eighth, the Fireflies (33-25) bats began to rally. With one out, Javier Vaz walked before Omar Hernandez got Columbia on the board with a double. Next, Gavin Cross singled and then Carter Jensen walked to load the bases for Guillermo Quintana. Quintana came through, singling to move everyone station-to-station. Daniel Vazquez copied Quintana, dribbling a grounder up the middle, this time scoring a pair of runs, making the score 8-4 in favor of Carolina (32-27).
The inning wasn't quite over yet. After Dayton Dooney drew a nine pitch walk to load the bases again, David Hollie flew a sacrifice fly to center and then Cayden Wallace smacked a pinch-hit ground-rule double to bring Columbia within a pair.
After Guillermo Quintana singled to score Cross to bring Columbia within one in the ninth, Daniel Vazquez walked to bring Dayton Dooney to the dish. Dooney smoked a 2-2 pitch just feet foul beyond the left field wall and then struck out on a 3-2 pitch with the tying run on second and the go-ahead run on first.
Shane Panzini (L, 0-4) was knocked out of the game after allowing five runs to score in the second inning. The righty walked a pair and allowed four hits, including homers to Branlyn Jaraba and Luis Castillo that accounted for all five runs against the Fireflies.
The deficit grew in the bottom of the seventh after Oscar Rayo spun four scoreless innings for Columbia, Brandon Johnson allowed a trio of runs off three hits and a walk in the seventh.
Columbia closes out their series with the Mudcats tomorrow at 1 pm at Five County Stadium. RHP Luinder Avila (6-9, 4.50 ERA) takes the slab for the Fireflies and Carolina counters with RHP Logan Henderson (0-0, 1.50 ERA).
The Fireflies return to Segra Park for their final homestand of the season September 6-11 to face the Charleston RiverDogs as they fight for their first playoff berth in franchise history. Join the Fireflies for the final fireworks show of the year, a t-shirt giveaway and Wands and Wizards night to close out the regular season! Tickets are available at FirefliesTickets.com.