Davis turns heads, points sails toward Windy City
No. 14 overall prospect provides steady hand as Cubs look to future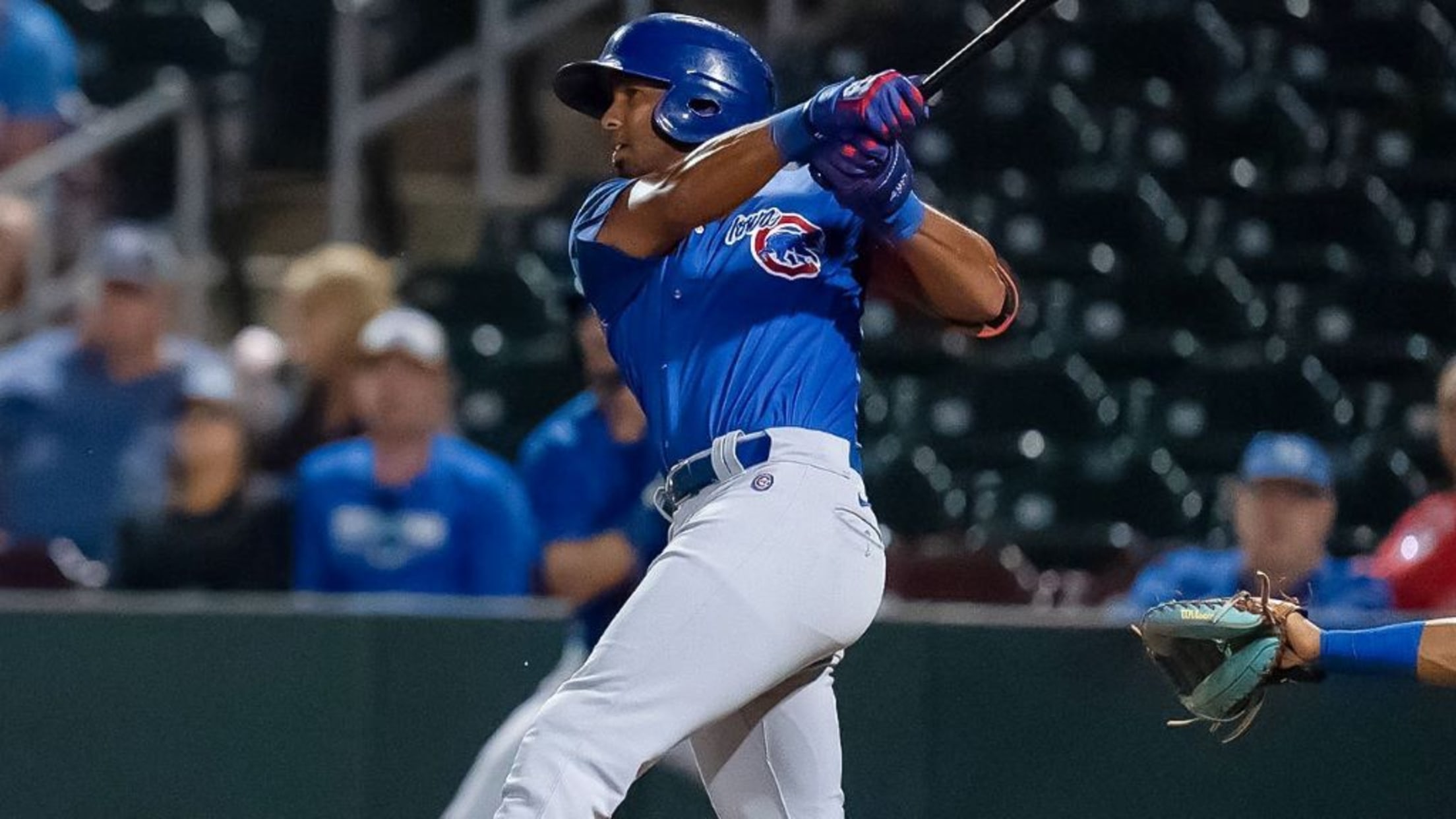 Top Cubs prospect Brennen Davis was named MVP of the Futures Game after his two-homer performance at Coors Field. (Iowa Cubs)
Each offseason, MiLB.com goes position by position across each system and honors the players -- regardless of age or prospect status -- who had the best seasons in their organization. Click here to locate your favorite club. In the fifth season since their historic World Series victory, the Cubs decided
Each offseason, MiLB.com goes position by position across each system and honors the players -- regardless of age or prospect status -- who had the best seasons in their organization. Click here to locate your favorite club.
In the fifth season since their historic World Series victory, the Cubs decided it was time to start from scratch and break up their homegrown core.
The trades of Kris Bryant, Anthony Rizzo and Javier Báez at the deadline, and some other big names before then, brought added attention to what was going on below the surface. The success of the individual Minor League clubs in 2021 won't be a proper indication of how quickly the rebuild will happen on the North Side -- fortunate for a system that produced a .457 overall winning percentage and had just one affiliate, the Rookie-level Arizona Complex League team, finish with a winning record.
Worth noting, a number of the prospects acquired through those trades had little to no playing time in the Cubs organization this year but figure to be important to the future. For instance, Pete Crow-Armstrong, the club's fifth-ranked prospect, was already down for the year with a labrum tear by the time he was acquired from the Mets in the Báez deal. Fourteenth-ranked Caleb Kilian is nominated for a MiLBY as the best starting pitcher in the Minors this season but only made four starts with Double-A Tennessee after coming over from the Giants in the Bryant trade.
In short, there could be plenty of prospects not on this list who eventually make important contributions to the Major League club. But in this year of transition, a younger, less-heralded group shined the brightest.
Cubs Organization All-Stars
Catcher -- Malcom Quintero, ACL Cubs (39 games): The 21-year-old picked up right where he left off after two seasons in the Rookie-level Dominican Summer League.
Quintero batted .333/.455/.444 with a pair of homers and 11 RBIs in his first year stateside. That line has proven to be true to form for the six-foot, 165-pound backstop, who posted nearly identical numbers in the DSL in 2019. The Petare, Venezuela native finished first in on-base percentage and second in average among all primary catchers with at least 100 plate appearances in the system and edged out 18-year-old DSL backstop Wally Soto for a spot on this list.
Quintero threw out 12 of 62 would-be base stealers and committed four errors while playing exclusively behind the plate this season.
First baseman -- Miguel Fabrizio, ACL Cubs (33 games), Myrtle Beach (two games): Fabrizio earned a late-season promotion to Low-A after a tremendous campaign with the Cubs' most successful affiliate.
Among players to spend time at either first base or catcher this season, the 21-year-old was tops with a .353 average, .555 slugging percentage, .976 OPS, 154 OPS+ and .526 BABIP. He also collected 19 extra-base hits, including two homers and 16 doubles, while driving in 28 runs and scoring 23 times.
The native of Maiquetia, Venezuela did produce a 30.8 percent strikeout rate -- second highest among first baseman in the system -- with very few walks (14). But his OBP and BABIP suggest good things happened when he put the ball in play.
He played the bulk of his games at first base but also appeared in 10 games behind the plate.
Second baseman -- Pedro Ramirez, DSL Cubs (50 games): Less than six months after signing out of Venezuela, the 17-year-old had one of the best summers among anyone in the system.
Among all of Chicago's second baseman with at least 200 plate appearances, Ramirez finished at the top with 70 hits, a .359 average, .417 OBP, .919 OPS, 155 wRC+ and .394 BABIP. His .503 SLG and 9.3 K% were second best among that group. Although he had a low strikeout rate, Ramirez didn't draw many walks (13), and he was successful in nine of his 16 stolen base attempts.
At 5-foot-9, 165 pounds, any power he can provide will be a bonus to his obvious bat-to-ball skills. He homered once while finishing in a tie with Ezequiel Pagan with seven triples, the most among all Cubs' Minor Leaguers.
His natural position is listed at shortstop, but he got the same number of starts at second (23) in his first year as a professional.
Third baseman -- Reginald Perciado, ACL Cubs (34 games): The 18-year-old from Panama never got to make his regular season debut with the Padres after signing for a record $1.3 million in 2019 before he was traded to the Cubs as part of the Yu Darvish deal in December.
The switch-hitting Perciado batted .333/.383/.511 with three homers, three triples, 10 doubles, 25 RBIs and 28 runs scored in his first professional season.
"He's just a really, really skilled young player," Cubs vice president of player development Matt Dorey said. "[He has] an advanced approach from both sides of the plate with pretty sneaky power."
The club's eighth-ranked prospect made just 154 total plate appearances but fared very well against right-handed pitching, collecting 35 hits in 101 at-bats (.347) from the left side. Among the system's third baseman with at least 100 plate appearances, he ranked first in average, slugging and BABIP (.423) while finishing second with a 132 wRC+ and .894 OPS.
A natural shortstop at 6-foot-4, 185 pounds, Preciado had close to an even split between short and the hot corner. But of his 11 errors, just one was committed at third base.
"We thought he potentially was going to outgrow the [shortstop] position," Dorey said. "But he has a plus arm, he has really good instincts. Surprisingly really good range for such a tall player."
Shortstop -- Kevin Made, Myrtle Beach (58 games): The Cubs were aggressive in assigning their No. 17 prospect to Low-A for his first full season. But Made was mostly up to the task.
The 19-year-old batted .272 with a .662 OPS, 17 extra-base hits, including a grand slam for his only homer of the year, and 20 RBIs. He was added to the Pelicans roster at the end of May, then suffered a month-long stint on the injured list that limited him to 58 total games this season.
But upon his return, Made batted .306 with 14 runs scored over his final 43 contests.
Signed for the second-highest bonus among Cubs international signees in 2019 at $1.9 million, Made committed eight errors in 163 total chances at shortstop and had three additional errors in 13 games at third base. He has plus grades for his arm and fielding ability and is viewed as one of the best defensive shortstops in the system.
It will be tough for Made to stand out at this position in years to come. In addition to Preciado's potential at shortstop, the Cubs also have third-ranked Cristian Hernandez, who was viewed by many as the best international prospect in the 2020 class, Ed Howard, the No. 7 prospect and No. 16 overall Draft pick last year, and James Triantos, the No. 11 prospect and 2021 second-rounder, all vying for time at the position.
Outfielders
Brennen Davis, Tennessee (76 games), Iowa (15 games), South Bend (eight games): It was an unfortunate start to the year, but by the end of the summer Davis cemented his place as one of the game's best prospects.
The 22-year-old did not make his debut with South Bend until May 22 after getting hit in the head with a pitch during Spring Training. Davis then tore through High-A pitching and got settled with Tennessee after a quick promotion. He batted .252 with an .841 OPS, 13 homers, 36 RBIs and 50 runs scored for the Smokies.
But the two highlights of the season for the game's No. 14 overall prospect came in the second half of the year. Davis homered twice and earned MVP honors at the Futures Game at Coors Field in Denver during the Major League All-Star break. He then earned a promotion to Triple-A at the end of the year and again homered twice in his debut at the level before collecting 12 hits in his first 27 at-bats (.444) with four homers over his first seven games in Iowa.
"He took the promotion to Double-A really well, made really good strides in all phases of his game, and then obviously once he got to Triple-A he just kept hitting," Dorey said. "Just a really exciting year for Brennen."
Overall, the top Cubs prospect batted .260 with an .869 OPS, 19 homers and 53 RBIs. On defense, Davis split time almost evenly between center and right field.
Nelson Velazquez, South Bend (69 games), Tennessee (34 games): There were only two players in the Cubs system with at least 17 homers and 17 stolen bases this season, and only two players hit at least 20 long balls. Velazquez was the only player on both lists.
"He's always had really good power. … But he's really showed, as he went to Double-A and cut down on his strikeout rate, he handles the breaking ball better," Dorey said. "A little bit more mature of a two-strike approach. So, he's becoming more of a complete offensive player."
The Cubs No. 29 prospect batted .270/.333/.496 with 20 homers, 73 RBIs and 56 runs scored across two levels. His 132 strikeouts were more than anyone else in the system besides Christopher Morel, but Velazquez's numbers actually got better after the promotion to Double-A.
The 22-year-old's strikeout rate went from 33.7 percent in South Bend to 25.5 percent in Tennessee and his average, OBP and slugging percentage all improved as well.
Velazquez doesn't get high grades for his speed, but he was successful in 17 of 19 stolen base attempts this season. He does, however, have an impressive arm that profiles well for right field, a position he played the majority of his innings at this year and racked up eight assists.
The Carolina, Puerto Rico native and 2017 fifth-rounder is finishing his season with Mesa in the Arizona Fall League.
Yohendrick Pinango, Myrtle Beach (84 games), South Bend (24 games): This pick is something of a toss-up between Pinango and Yonathan Perlaza.
Pinango, the Cubs' No. 18 overall prospect, gets the edge as the system's overall leader in hits with 116 while playing in his first full season. The 19-year-old batted .276/.327/.373 with five homers, three triples, 36 RBIs and 59 runs scored. His 88 singles also led the system and his 20 doubles were fourth-most among Cubs' Minor Leaguers.
Signed for $400,000 out of Venezuela in 2018, Pinango has a track record for this type of success at the plate. He led the DSL with 86 hits and batted .358 in his first professional season in 2019. There's obviously limited power in his 5-foot-11, 170-pound frame, but there's plenty of room to fill out and he also improved after the promotion, batting 27 points higher at .289 with South Bend.
Right-handed starting pitcher -- Ryan Jensen, South Bend (16 starts), Tennessee (four starts): The 23-year-old out of Fresno State became a difficult at-bat after he learned to throw a distinct second breaking pitch -- a curveball -- to work off his sharp, 55-grade slider.
"That really helped him become more effective against left-handed hitters," Dorey said. "When he's in the zone, he's really tough to hit with his power sinker. When he got deeper in Double-A and just trusted his stuff and threw more strikes, he was really successful."
Jensen was one of two pitchers in the system with at least 70 innings pitched to hold opposing batters below a .200 average. He finished with a 4.16 ERA and 90 strikeouts in 80 innings overall.
The Cubs' No. 15 prospect and 27th overall pick in the 2019 Draft allowed two earned runs or fewer in all but six of his 20 starts. He also set a new career high with 10 strikeouts against a very difficult Quad Cities lineup on July 27.
Jensen spent some time on the development list during the season and is finishing out the year in the AFL.
Left-handed starting pitcher -- DJ Herz, Myrtle Beach (17 starts), South Bend (three starts): The 20-year-old from Fayetteville, North Carolina, was downright dominant in his first full season. Herz led the system with 131 strikeouts over 81 2/3 innings while pitching to a 3.31 ERA across two levels.
"He's a super athletic guy that has a unique fastball with a kind of deception and carry," Dorey said. "We thought [there was] a couple more ticks to the fastball that he held throughout the year and we saw improvement on the breaking ball. And surprisingly, at times, a plus changeup."
The 2019 eighth-rounder led the system with a 14.44 K/9, which ranked fourth in the Minors among pitchers to complete at least 70 innings, while his .154 opponent batting average ranks third in that group.
Herz, the Cubs' 13th-ranked prospect, can already run his fastball up to the mid-90's figures to have more room to add velocity. His downer curveball also fits well in an arsenal that includes a slider with some sharp horizontal break.
Also pitching in his first full season, Herz allowed more than two earned runs in just four outings, and he struck out at least seven batters in 12 different outings with a career-high 10 punchouts coming Aug. 21 against his hometown Fayetteville club.
Relief pitcher -- Brandon Hughes, Tennessee (18 games), South Bend (eight games): After a year and a half as an outfielder in the Cubs system, the organization approached Hughes with the idea of becoming a full-time pitcher in 2019. Given the year he had in 2021, it certainly seems like that was the right move.
Hughes pitched to a 1.71 ERA with 60 strikeouts over 42 innings out of the bullpen this season.
"He was pretty dominant," Dorey said. "Just a lot more velocity -- sat 90 to 95. Another guy who has unique carry traits and deception. And then he has really good feel to shape a breaking ball and land it for strikes."
The 2017 16th-rounder out of Michigan State recorded more than three outs in all but seven of his 26 total appearances. The southpaw converted his lone save opportunity while holding opposing batters to a .203 average.