Mighty Mussels help with Hurricane Ian recovery
Fort Myers' Loveland discusses storm prep, impact and aftermath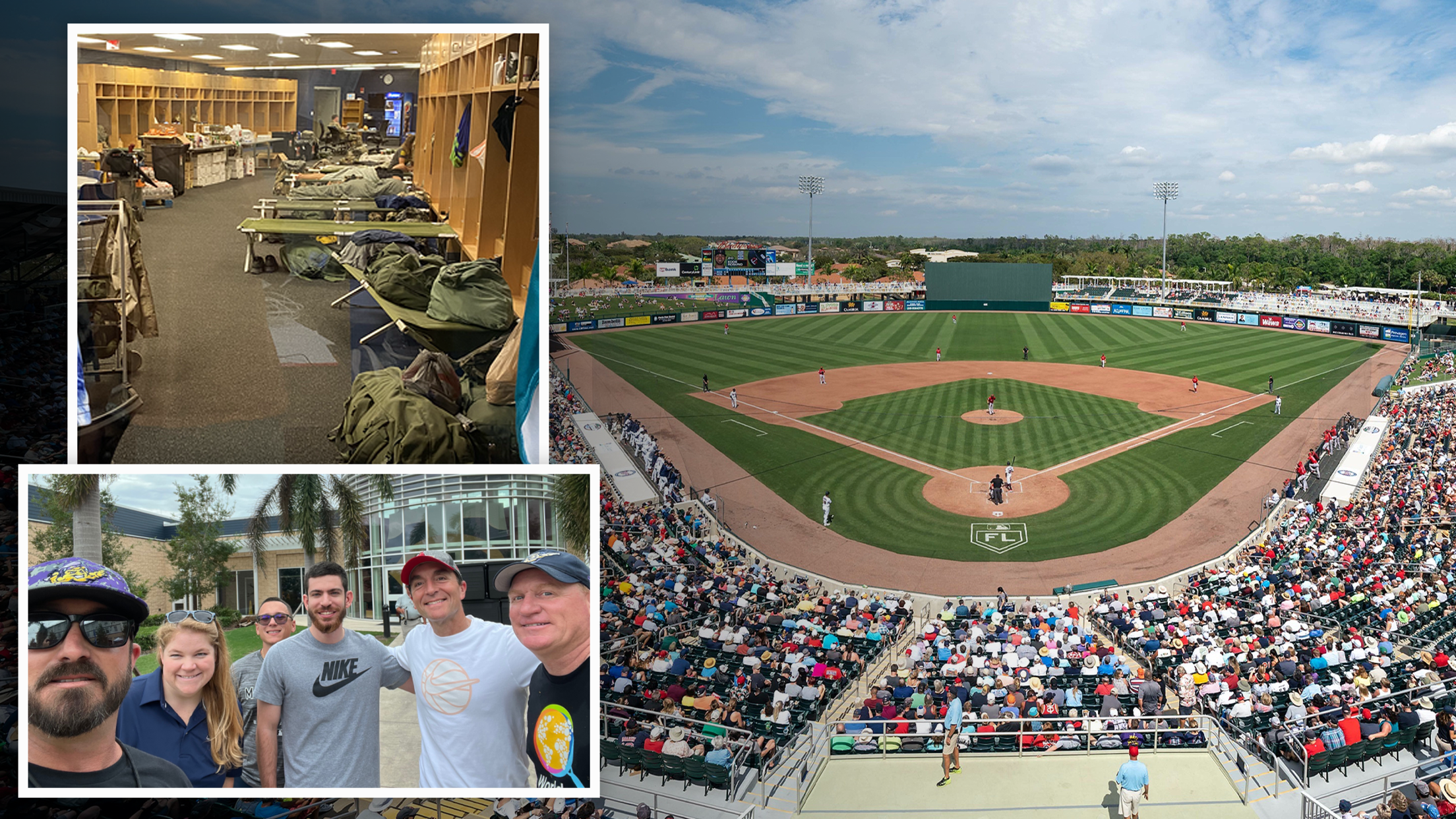 In the wake of Hurricane Ian, Fort Myers' Hammond Stadium was transformed into a first responder staging area and volunteer hub.
This article is based on an interview conducted for this week's Show Before the Show podcast. To listen to the full episode, click HERE.
This article is based on an interview conducted for this week's Show Before the Show podcast. To listen to the full episode, click HERE.
"We're in the haze of a new norm and trying to learn how to navigate that."
That's how Judd Loveland, general manager of the Fort Myers Mighty Mussels, described life in the aftermath of Hurricane Ian. The Category 4 hurricane battered Fort Myers, and southwest Florida in general, on Sept. 28. The Mighty Mussels, Single-A affiliate of the Minnesota Twins, have contributed to the ongoing relief and clean-up efforts while also trying to ensure the health and well-being of their staff.
In short, this has not been a typical offseason.
"I've lived in Florida my whole life," said Loveland. "[Ian] was by far the worst hurricane I've ever been through. It wasn't very fast. It was very big and very strong and just took forever to get through the area.... Your cell phones don't work, internet goes down, you lose power, you lose connectivity. It becomes something you can probably only imagine in a dream if you haven't gone through it before."
The Mighty Mussels play at Hammond Stadium, which also serves as the Twins' Spring Training facility. It is part of a larger developmental complex owned by Lee County, in which Fort Myers resides. Loveland calls the Twins and the county "the two biggest partners we have."
"We're actually quite familiar with significant weather here in Fort Myers," he said. "Storm proofing the building is something we go through several times a year…. For us that started the week before the hurricane and as the [storm] models became more clear we began to take things that were externally out of the building and put them inside."
The resulting damage to Hammond Stadium was comparatively minor, largely consisting of downed trees, canopies and fencing. Flooding was minimal, and overall the facility remained in good working order. This allowed it to be immediately utilized as an emergency staging area for first responders, as it had in the wake of Hurricane Irma in 2017.
"By that following day, people were moving in," said Loveland. "National Guard, multiple law enforcement agencies, EMS, all types of emergency response takes over.... When things like this happen it becomes a state site. We offer our services, how can we help, but it becomes very real, very quick."
As Hammond Stadium underwent this transformation -- leading to surreal sights such as cots for National Guard members set up in the clubhouse -- Loveland attempted to get in touch with his front office colleagues and team partners. He said the "biggest thing to be thankful for" was that everyone was safe, although some "lost a lot in the way of property and possessions."
"It was an ongoing thing for a few days trying to keep track of everybody," said Loveland. "As the dust settled, those of us with power and working water spread the word to invite others over. We started scheduling times, we can grill something out and you can charge your phone. There was about a week of that. There really was no ability to communicate other than cell phones."
Our staff continues to work alongside @WCKitchen and the @Twins to prepare and deliver fresh meals each day for first responders and the many families in need in SW Florida.

Together, we will get through this!#MusselUpForSWFL pic.twitter.com/oLBytlWGZB

— Fort Myers Mighty Mussels (@MightyMussels) October 13, 2022
Soon after the storm, Loveland's colleagues began reaching out to him: "How can we help? What can we do?"
The answer came in the form of World Central Kitchen, a global charity that provides meals in the wake of catastrophic occurrences. The organization had been called to Hammond Stadium as part of the larger emergency response efforts, and assistance was needed.
"They needed bodies. They needed muscle," said Loveland, making an observation that soon led to its inevitable conclusion: "They needed mighty muscle."
"Our food and beverage director, Loren Merrigan, immediately plugged in with [World Kitchen] and was right in the middle of the kitchen wearing his chef's coat and getting after it, cooking," he continued. "We started to get the message out. We can get some people over here ... doing everything from cooking to prepping and boxing meals and then helping with the distribution staff, loading trucks, driving trucks, going out to sites that were devastated. The first few days we were loading helicopters."
As the days went on, more and more Mighty Mussels staffers contributed to these efforts. Front office members of the Palm Beach Cardinals, another Florida State League team, joined in as well. Loveland said that, during a time of upheaval and uncertainty, it provided a welcome feeling of focus and belonging.
Thanks so much to the @GoPBCardinals for helping volunteer in Fort Myers yesterday with the Mussels and @WCKitchen! pic.twitter.com/gFlSq3gXmE

— Fort Myers Mighty Mussels (@MightyMussels) October 19, 2022
"The best way we can help the community, as operators of this facility, is to come here and help operate this facility," he said. "But in a way that will distribute hundreds of thousands of meals into this community, to the point where it's still going on today."
As the calendar flips to November, Loveland expects that the Mighty Mussels will be able to resume something resembling their "normal" day-to-day operations. They'll be on an accelerated timetable when it comes to planning for 2023, but that's a challenge they're willing to meet head-on.
"This year will be another sign of how much our people care," he said, "and what we can do for the community."