'Hoppers' Holloway refuses to budge
Marlins No. 16 prospect works five innings in near-no-hitter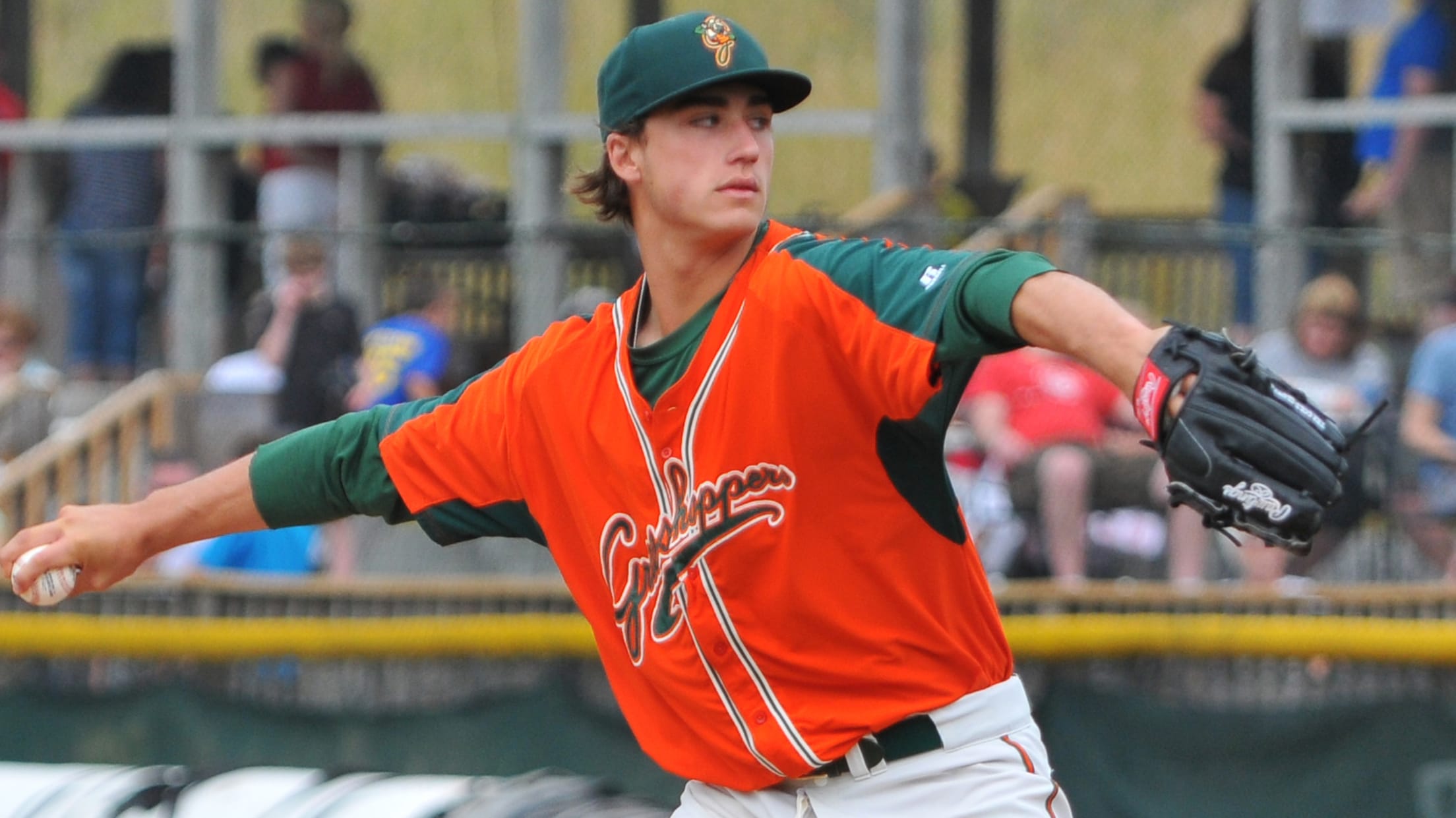 Jordan Holloway has allowed one hit over 9 1/3 innings in his last two starts. (Tracy Proffitt/MiLB.com)
Jordan Holloway and Class A Greensboro fell one strike shy of a milestone on Friday night in Asheville.The Grasshoppers were one out away from the first extra-inning no-hitter in South Atlantic League history when Tourists second baseman Max George fell into a 0-2 hole against reliever Michael Mertz in the
Jordan Holloway and Class A Greensboro fell one strike shy of a milestone on Friday night in Asheville.
The Grasshoppers were one out away from the first extra-inning no-hitter in South Atlantic League history when Tourists second baseman Max George fell into a 0-2 hole against reliever Michael Mertz in the bottom of the 10th. George battled the count full and on the ninth pitch of the at-bat smacked a long homer to left field.
"Honestly, I thought he pitched great toward the end there. But I liked how he attacked the hitter -- he didn't give in until the very end," Grasshoppers pitching coach Mark DiFelice said of Mertz. "The slider [at] 2-2 was a little up, but then he came right back with the fastball. I like the aggressive approach from him. He didn't give in, and that's something we preach here -- attacking with the fastball, especially 3-2, he wasn't missing there, he was coming right after him."
Box score
Holloway, the Marlins' No. 16 prospect, did not allow a hit but did surrender a run over five innings in his fifth start of the season. He watched as Greensboro held on for a 3-2, 10-inning victory at McCormick Field.
"Not giving up one hit in a game is absurd. We only gave up one, and I don't think that's bad at all," Holloway said. "I think [Mertz] is a fantastic pitcher and he was battling. I have trust in everybody in our bullpen."
The 2014 20th-round pick had great success pitching to a new formula that he and the Grasshoppers staff feel is conducive to stadiums in the South Atlantic League. Holloway struck out three, record four flyouts and picked up eight groundouts.
"We're striving for ground balls and getting the ball on the ground as much as possible because those flies, even in Asheville, they don't need to get all of it, but it's a good possibility it's hitting a gap, hitting the wall or going out," Holloway said. "We're taking pride in pitching to the bottom of the strike zone as we develop ourselves into higher-level guys."
DiFelice said that a big part of Holloway's development will come when the 20-year-old right-hander can scale back some of the velocity on his fastball in order to keep pitches down in the zone.
"He's a kid that can run it up to 98 mph, but I like him around 94-95 because he has a little more angle," the coach said. "When he reaches back for the 97-98, it has a tendency of creeping up, so we've been working on controlling the body. Go a little more downhill, still with a little [velocity] to it but not that max effort type of thing."
The Colorado native kept Asheville out of the hit column but faced his share of adversity. He issued three walks to go with three punchouts, giving him eight walks and seven strikeouts in his past two starts.
"I think it's me trying to get used to pitching down in the bottom of the strike zone and missing down," Holloway said. "A lot of times I'm rushing to the plate and I get too jacked up and I'm walking guys."
DiFelice agreed that Holloway's command issues start with more behavioral control rather than large-scale mechanical adjustments.
"We've been working with him to try and control his aggression, especially early in the game," DiFelice said. "We've actually tailored his bullpens to almost game-like so he can really kind of feel what his body is doing. Experience is going to take over eventually where he can kind of learn sequences, learn how to control his changeup a little better and his breaking ball and, obviously, throw more effective strikes."
Although they weren't able to get a hit against Holloway, the Tourists exploited the right-hander's delivery and stole seven bases while he was on the mound. The only run Holloway allowed came on a wild pitch that was preceded by a double-steal by Taylor Snyder and George in the second inning.
"I don't think it's being quicker to the plate, I definitely need to take more pride in holding runners," Holloway said. "I was a little more focused on the batter at the time and not really trying to keep those runners at bay as much as I could."
The Grasshoppers turned to Ben Meyer to start the sixth with the no-hitter intact. The 24-year-old right-hander retired all nine batters he faced, striking out six, before handing the ball to Mertz.
Greensboro scored two runs in the 10th on an RBI single by Colby Lusignan that rolled under the glove of center fielder Cole Anderson as Lusignan came all the way around to score on the three-base error.
Mertz fanned four in two innings, striking out Anderson three pitches after George homered.
"It was unfortunate that they got the hit, but I couldn't be prouder of him to close it out after giving up the home run like that, going and getting the next batter," DiFelice said. "He was a little disappointed, but I reassured him that's what the organization likes -- attacking the hitter and not giving in. Unfortunately, stuff is going to happen when we're around the plate."
Gerard Gilberto is a contributor to MiLB.com. Follow and interact with him on Twitter, @GerardGilberto4.