Fuentes, Golden shine in Rockies system
Dynamic offensive talent abounds in versatile Colorado ranks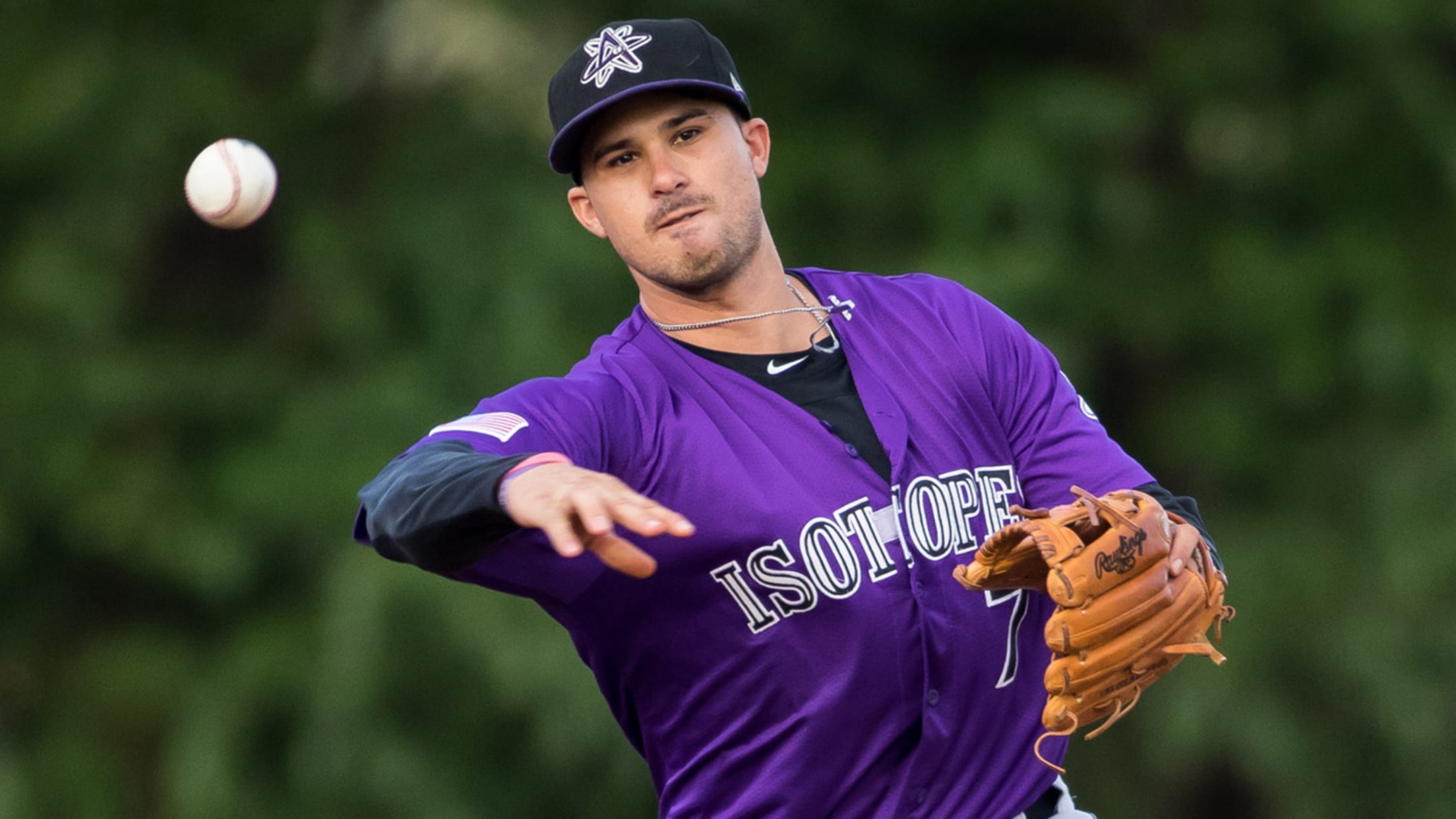 In his first Triple-A season, third baseman Josh Fuentes was named Pacific Coast League MVP. (Bobby Stevens/MiLB.com)
Each offseason, MiLB.com goes position by position across each system and honors the players -- regardless of age or prospect status -- who had the best seasons in their organization. Click here to locate your favorite club.For the first time in franchise history, the Rockies have reached the postseason in consecutive
Each offseason, MiLB.com goes position by position across each system and honors the players -- regardless of age or prospect status -- who had the best seasons in their organization. Click here to locate your favorite club.
For the first time in franchise history, the Rockies have reached the postseason in consecutive years with another National League Wild Card, and that recent success is due largely to homegrown talent. Starting pitchers like German Márquez and Kyle Freeland spent most or all of their time in the Minor Leagues in the Colorado system, which has churned out some of baseball's top position players in third baseman Nolan Arenado and shortstop Trevor Story.
On the farm, the Rockies posted a .488 winning percentage, sent two teams to the playoffs -- Rookie-level Grand Junction and Class A Advanced Lancaster -- and produced three league MVPs. Firmly in the big club's window of contention, Colorado affiliates continue graduating reinforcements and future stars with the aim of finally capturing the franchise's first National League West title.
Rockies Organization All-Stars
Catcher -- Brian Serven, Lancaster (83 games):
The Rockies have struggled to develop catchers, but Serven could break that mold. In his longest season, the Arizona State product batted .268/.326/.488 with 12 homers and 46 RBIs, and his defensive development caught the organization's eye.
"When he first came to us, it was pretty clear that he had a lot to do behind the plate as a catcher," said Rockies senior director of player development Zach Wilson. "To his credit and to our catching coordinator Mark Strittmatter's credit, they just teamed up and got after it, starting really in that first [instructional league] after his first year out, and it has not stopped since. Defensively, that's going to be what carries him. It's a solid, plus arm with plus accuracy and the receiving skills have really tightened up over the course of the last year and a half. We're really happy with the progress he's made."
First baseman -- Grant Lavigne, Grand Junction (59 games):
While fellow first baseman
Roberto Ramos
earned MLB Pipeline's nod as Colorado's prospect of the year at Class A Asheville, Lavigne put up stunning numbers at Rookie-level Grand Junction. The highest-ever prep selection out of New Hampshire, the 42nd overall pick in this year's Draft raked at a .350/.477/.519 clip with six homers and 48 RBIs. The left-handed hitter also walked more times (45) than he struck out (40).
"I saw a Major League approach in an 18-year-old's body, and I'm talking
now
Major League approach out of an 18-year-old kid," Wilson said. "He's just fun to watch take an at-bat. He knows what he's trying to do up there. He's got a plan every time he steps in the box. He's extremely patient, but you give him a pitch to hit, he's going to attack it with authority. I've seen him hit homers from left-center all the way around to the right-field foul pole, so it's power everywhere, and this guy doesn't even have his man strength yet. He's a big kid, but he's still a kid."
Lavigne was as good away from hitter-friendly Suplizio Field as he was at home, batting .361/.473/.487 on the road and .333/.482/.563 in Grand Junction.
"There's some big names that he reminds me of, and I don't even want to throw them out there because it's too early," Wilson raved. "I'll put it this way: I have never in my seven years of development and really in my 10 years of scouting prior to that, have I seen a kid this age that has the extremely advanced approach that he has. That's saying something, and I think that's only going to continue to improve as he gets older. I think this is a guy that at a full season could walk 100 times."
Second baseman -- Bret Boswell, Asheville (97 games), Lancaster (30 games): After a stellar debut with Class A Short Season Boise a year ago, Boswell was even better in 2018. The University of Texas product batted .288/.331/.496 in 97 games with Asheville to get the call to Lancaster, where he posted a .322/.388/.636 line in 30 contests. Listed at 6-foot-1 and 180 pounds, Boswell hammered 27 combined home runs and drove in 78.
Third baseman -- Josh Fuentes, Albuquerque (135 games): Prior to 2018, Fuentes may have been best known for being Nolan Arenado's cousin. That's no longer the case.
"I can tell you I've purposely never once referred to him as 'Nolan's cousin,'" Wilson said with a laugh. "So many people do, but this guy is his own man and his own player. He's proven that over the course of the last two or three years. Tremendously hard worker, has an unbelievable time playing the game. He plays it with passion, with love, with energy. He's much like Nolan in that way. I think that's where the blood is there; they just play the game so similarly. They play it like they're kids. That's one of the things that makes Nolan good, and it's one of the things that makes Josh good."
In his first season at Triple-A, Fuentes held down both corner infield spots and batted .327/.354/.517 with 14 homers and a career-best 95 RBIs on his way to Pacific Coast League MVP honors.
"He makes every play that he should at third base and really at first base, too, and then some, and he just keeps hitting," Wilson said. "He's got some things to do to cut down those strikeouts a little bit, but we can deal with some of those numbers as long as the others are good, and they all have been."
Honorable Mention: Colton Welker won the California League batting title and belted 13 homers, more than his career total entering the season.
Organization All-Stars by MLB affiliate »
Shortstop -- Brendan Rodgers, Hartford (95 games), Albuquerque (19 games): The Rockies' top prospect reached the Minors' highest level with a promotion to Albuquerque after conquering Hartford in a return assignment.
"On the defensive side of the ball is really where he kind of topped some things off," Wilson said. "We had him playing third base in Hartford. One of our best infield coaches, Warren Schaeffer, is the manager there. I wanted them to spend a lot of time together, particularly as we were introducing third base to him, and I can tell you at this point, defensively, he's nearing readiness for the Major League level. He still has some things offensively to do. Obviously, the numbers in Hartford were very good."
Rodgers batted .275/.342/.493 for the Yard Goats, garnering an Eastern League All-Star selection, and swatted 17 homers before the promotion. At Triple-A, he scuffled due to nagging injuries and didn't play after Aug. 31.
"He's still making that adjustment to Triple-A pitching and how they pitch you there," Wilson said. "That's kind of the last step for him. Now you're going to start facing some guys. In Double-A, you took care of the good arms and the power stuff, but in Triple-A, they're going to mix you up. They've got more detailed advance reports on you now. You're going to have to make an adjustment to them, and I think he's going to do that in short order as we get into 2019."
Outfielders
Casey Golden, Asheville (124 games): Golden was in the chase for the Minors' Bauman Home Run Award until the final week of the season and finished with 34 taters and the South Atlantic League MVP crown.
"When he's aggressive in counts and very aggressive toward his pitch, he's got a chance to hurt you," Wilson said. "At times, he'll get behind in the count and he'll swing at a bad pitch, something that's not his. That's where the strikeout numbers come in. Towards the last month and a half of the season, I think he really started to make an adjustment there."
Defensively, Golden also impressed.
"He's got other things that play. He makes every play in the outfield that he should in both corners. He can play center in a pinch because he's actually like a 55[-grade] runner. People don't realize with all that power, he can run a little bit, too. He's got a lot to work with there."
Mike Tauchman, Albuquerque (112 games), Colorado (21 games): Tauchman pushed Fuentes in the PCL MVP race, batting .323/.408/.571 with 20 homers and 81 RBIs while holding down steady outfield work. While his average and slugging percentage dropped in the second half of the season, his on-base percentage rose, thanks to 31 walks against 23 strikeouts after the All-Star break.
Vince Fernandez, Lancaster (117 games): Named to the California League midseason and end-of-season All-Star teams, Fernandez followed a stellar year by boosting his OPS nearly 90 points. The UC Riverside product slammed 24 homer and drove in 75 runs, both career highs.
Utility player -- Coco Montes, Grand Junction (69 games): The Pioneer League MVP batted .333/.413/.513 and finished in the top five in the circuit in average, hits, total bases and walks. A 15th-round pick out of South Florida, Montes saw action at second base, third base and shortstop, helping Grand Junction advance to the Championship Series.
Right-handed starter -- Rico Garcia, Lancaster (16 games, 15 starts), Hartford (11 starts): Posting a 3.42 ERA and 101 strikeouts over 100 innings in appearances at the Minor Leagues' most hitter-friendly park portended good things for Garcia. That performance in Lancaster led to a promotion to Hartford, where he had a 2.28 ERA and 61 K's in 67 frames. The Hawaii native was selected as MLB Pipeline's Rockies Pitcher of the Year as well as a midseason and end-of-season All-Star.
Left-handed starter -- Ryan Rolison, Grand Junction (nine games): In a heavily restricted debut season, the 22nd overall Draft pick dominated Pioneer League foes. Though he threw only 29 innings, Rolison limited opponents to a .149 average and posted a 0.79 WHIP to go with a 1.86 ERA. The Ole Miss product fanned 34, walked eight and gave up 15 hits to the 109 batters he faced.
"He looked like a professional pitcher," Wilson said. "That's how he pitches: a professional left-handed pitcher who's got some savvy about him, who knows what he's doing out there, knows what he's trying to do. He's just got a feel for reading hitters and knowing what pitch to throw, knowing situations. He's just got a feel for all of that. He's got an excellent breaking ball. It's a plus breaking ball, and I think his changeup is going to end up being plus when it's all said and done, and he's going to command his fastball. The guy's a pitcher and he's kind of your classic left-handed pitcher who's going to be able to work all four quadrants."
Relief pitcher -- Matt Pierpont, Hartford (55 games): In his third season in the Eastern League, Pierpont was his best. The Winthrop product saved 32 games in 34 chances and registered a 1.95 ERA, fanning 77 over 60 innings.
"He's got an excellent changeup. It's a swing-and-miss changeup. It's one of those changeups where you know it's coming and sometimes you still can't hit it," Wilson said. "We've been working and working to try and get him some experience at Triple-A. That hopefully is the next step for him. He throws strikes and he's got a good changeup. That allows him to compete every time he goes out there."
Tyler Maun is a contributor to MiLB.com. Follow him on Twitter @TylerMaun.