Shibuya shines among Pitchers of the Week
Dodgers prospect hurls 15 scoreless innings, including near no-no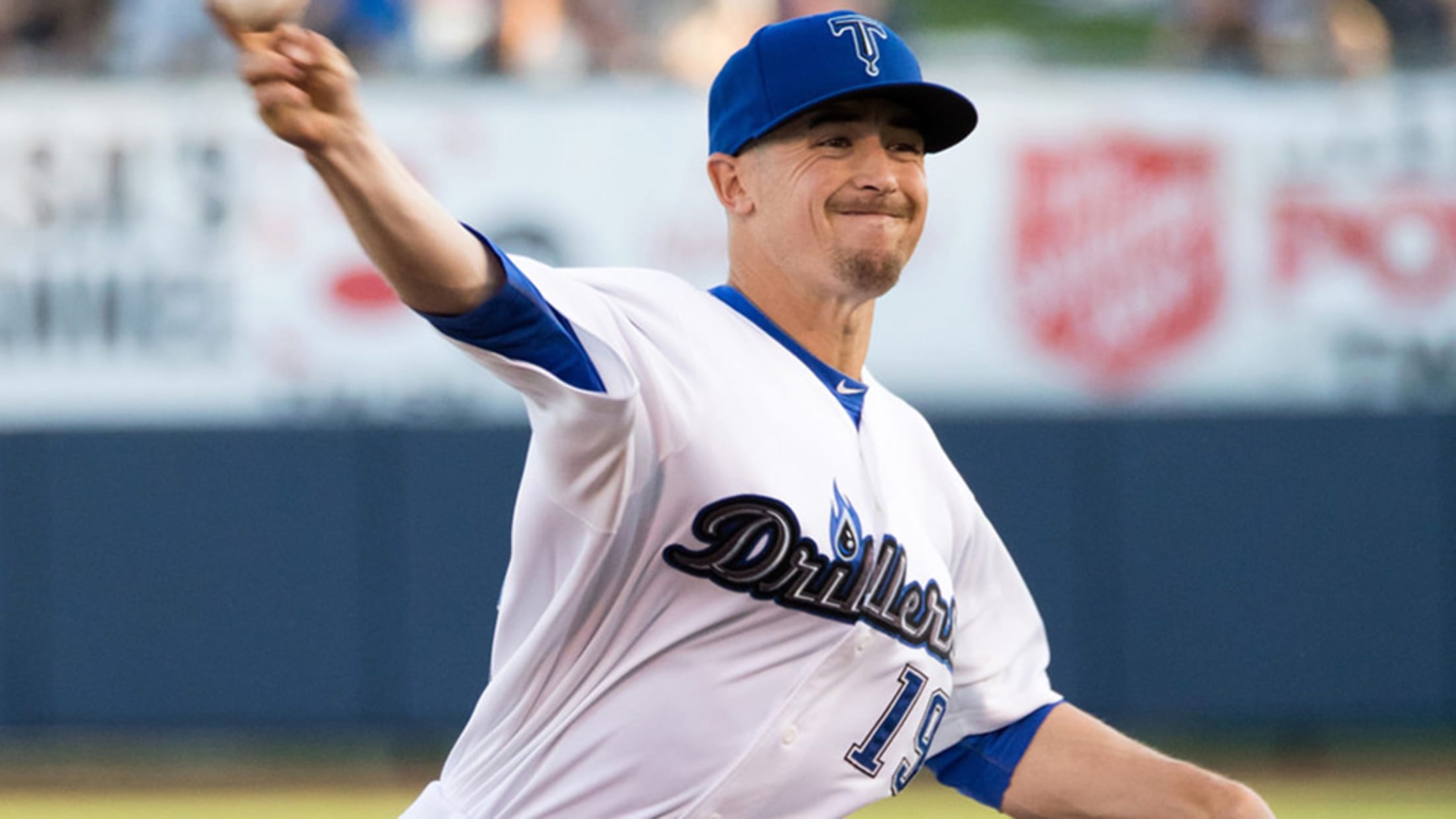 Tim Shibuya is 3-0 with a 1.29 ERA during his five turns as a starter this season for Double-A Tulsa. (Rich Crimi/Tulsa Drillers)
If a hurler comes within one strike of a no-hitter, he's sure to be on the short list for a Pitcher of the Week honor. If he follows up that gem with six more scoreless innings, well, the other contenders will very likely have to wait their turn.That was the
If a hurler comes within one strike of a no-hitter, he's sure to be on the short list for a Pitcher of the Week honor. If he follows up that gem with six more scoreless innings, well, the other contenders will very likely have to wait their turn.
That was the route taken by Dodgers prospect Tim Shibuya, whose stellar stretch from July 3-9 for Double-A Tulsa led to the Texas League Pitcher of the Week award. This is the third Minor League Pitcher of the Week honor of his career and first since 2013 for Class A Cedar Rapids as a member of the Twins' organization.
The 27-year-old nearly made history last Monday when he took a no-no into the ninth at Midland. He got ahead on a 1-2 count with two outs, but B.J. Boyd bounced a ball up the middle, just past the right-hander's outstretched glove. The ball then squeaked past second baseman Samuel Ortiz and into center field for the RockHounds' only hit of the night.
"Those guys have been making plays for me all night," Shibuya told MiLB.com after the game. "There were some balls that were hit hard that went right at our guys, and it just happens that a seeing-eye single is the one that breaks it up. There were a lot of other chances that the other team had if it hadn't been for the defense to take away. Baseball evens it out."
The Drillers starter, who fanned six and walked one in Monday's gem, rebounded from that slow-rolling single to record the final out for the fourth shutout of his career and his first of the nine-inning variety since Aug. 31, 2013 -- the outing that earned him his last Player of the Week award.
Shibuya carried that momentum, and whatever knowledge he gained about Midland hitters, into his Saturday outing at home against the RockHounds. This time, he gave up seven hits but did not walk a batter over six scoreless frames in a 13-2 thrashing in Tulsa, lowering his ERA to 1.30 and his WHIP to 0.82 through 41 2/3 innings on the circuit. He struck out only one of the 24 batters he faced, but earlier in the week, he had talked about the importance of pitching to contact in his first go-round against Midland.
"We were mixing fastballs in and out, off-speed pitches here and there," said Shibuya, who's walked only 3.2 percent of the Double-A batters he's seen this season. "[Catcher Jack Murphy] did a great job behind the plate. He called a great game. Defense was unbelievable, just making plays. I was just trying to let them hit the ball into the defense and let them do the work."
• View the Player of the Week winners »
Shibuya, a 23rd-round pick in 2011 who was signed by the Dodgers as a free agent in 2016, has been used as a swingman during his time with Tulsa. Various injuries have limited him to 11 appearances this year, five of which have come out of the bullpen. He earned a spot start with Triple-A Oklahoma City on May 5 but gave up 13 earned runs on 14 hits in just 2 2/3 innings.
The further Shibuya gets from that outing and the injuries, the more effective he's been, especially in the starter's role.
"With the injuries, it's just about keeping with the program to go get ready for the next time you get to go out and compete," he said this week. "It's just trying to keep yourself ready so when the opportunities knock, you're able to take advantage of it."
Here is the complete list of Minor League Pitchers of the Week for July 3-9:
Sam Dykstra is a reporter for MiLB.com. Follow and interact with him on Twitter, @SamDykstraMiLB.