Kay dazzles again for Rumble Ponies
No. 7 Mets prospect strikes out nine, lowers ERA to 1.49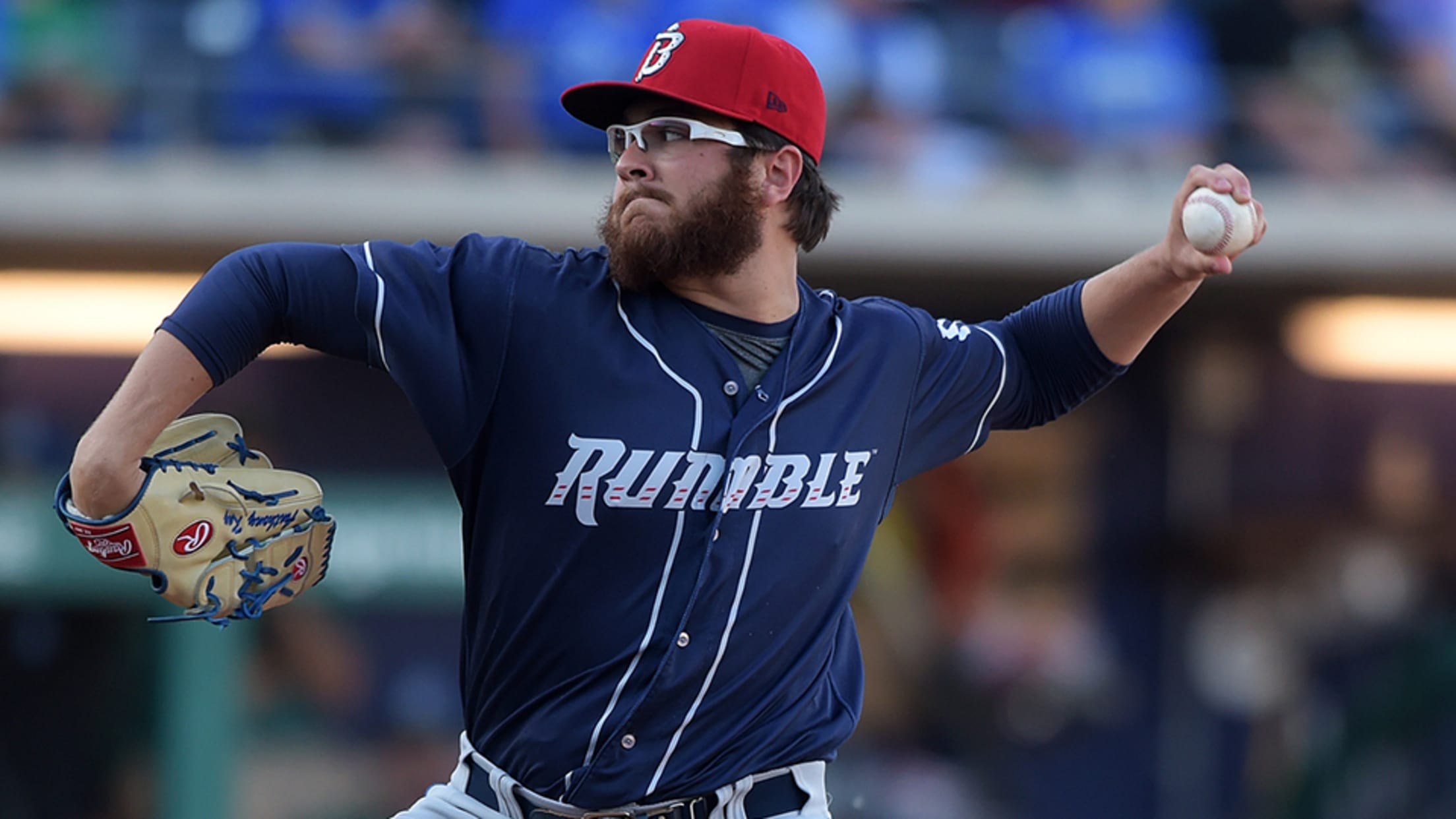 With seven wins, Anthony Kay is tied for the Eastern League lead with Hartford's Rico Garcia. (Kevin Pataky/MiLB.com)
From the start of the season, Anthony Kay has established himself as not only one of the best arms in the Eastern League but all of Double-A with his lethal three-pitch mix. On Saturday, he deployed all three and continued to live up to his billing. The seventh-ranked Mets prospect struck out
From the start of the season, Anthony Kay has established himself as not only one of the best arms in the Eastern League but all of Double-A with his lethal three-pitch mix. On Saturday, he deployed all three and continued to live up to his billing.
The seventh-ranked Mets prospect struck out nine over 5 1/3 innings, allowing three hits and two walks, as Binghamton blanked Hartford, 1-0, at Dunkin' Donuts Park. It was his sixth scoreless outing in 12 starts this season.
Kay, who returned last year following Tommy John surgery in 2016, has continued to mature on the hill in his sophomore campaign. Another year removed from the procedure, he's second in Double-A with a 1.49 ERA stands behind Erie's Casey Mize -- MLB.com's third overall prospect -- and his 0.92 WHIP ranks sixth at the level. He's also notched one outing with double-digit strikeouts (10 on April 22) and recorded his first career shutout with a seven-inning gem against Altoona on May 14.
Missing two campaigns after his first-round selection three years ago might have led to a catchup mentality early on, but Kay has continued to develop as the Mets' No. 2 lefty prospect behind David Peterson. Binghamton pitching coach Jonathan Hurst, who worked with Kay last year with Class A Columbia, said the turning point for the hurler came with his promotion to the Florida State League last summer.
"Last year was more of just letting him pitch," Hurst said. "It was more of a health thing, not worrying too much about how much success he was going to have, it was just seeing him coming out to compete and use what he could. ... I think he turned that over once he got to [Class A Advanced] St. Lucie. He turned into a different type of pitcher. He started commanding pitches better down in the zone, he started coming into himself more.
"He's really worked his tail off to get to where he is now. He knows what works, he knows what type of pitcher that he is, and that's what he goes out and does every day."
Kay's 3.88 ERA in his final 10 starts gave him some momentum heading into 2019, which he's continued to become one of the league's top pitchers. But after back-to-back seven-inning scoreless starts, he was touched up for six runs -- five earned -- over his previous two outings.
The Stony Brook, New York, native got back on track against Hartford, throwing 62 of 94 pitches for strikes and bumping his total to 70 punchouts in 66 1/3 innings. Particularly against the Yard Goats, Hurst saw Kay mix in a 94-95 mph fastball with a sharp breaking ball to keep the lineup out of sync.
"He got into a little rut those last two starts," Hurst said. "He was basically trying to do too much. He has a really fast tempo, but when he gets runners on, he gets a little too fast. ... That's where he really gets in trouble, when he starts rushing."
The southpaw got in a groove Saturday and maintained his good tempo early against the Yard Goats, setting down the first 10 batters he faced. Trouble brewed in the fourth, however, when sixth-ranked Rockies prospectTyler Nevin drew a one-out walk and Alan Trejo and Willie Abreu singled with two down. Hurst saw Kay getting a little too quick to the plate again, so he made a trip to the mound and gave his starter a quick message.
"Well, I told him, 'I can't keep coming out here because I don't have all the visits,'" Hurst said with a laugh. "So basically I talk to the catchers, the catchers are reminded when I see they have to correct [the tempo] right away because we don't want it to get away from him."
Keeping Hurst's message in mind, Kay got back in rhythm and retired Mylz Jones on a fly ball to left to leave the bases loaded.
Brian Serven led off the fifth with a ground-rule double to left, but with a flyout sandwiched between strikeouts, Kay (7-3) evaded another scoring opportunity.
Gameday box score
Back out for another frame, the 24-year-old got Nevin to ground out to shortstop before Rockies No. 2 prospect Colton Welker walked to close the book on Kay's night. He's had five starts this season in which he's fanned at least seven hitters.
With his 70 strikeouts, the UConn product is fifth in the Eastern League. Over the last two seasons, Kay has totaled 193 strikeouts in 189 innings. With great command and all three pitches working, he's provided quality outings more times than not in 2019, with Saturday's just another in an impressive first half.
"One thing I've been getting him to do is get more effective with his fastball -- really working both sides of the plate," Hurst said. "He's been pitching inside well, elevating. His curveball has been one of those pitches that has been big for him lately, and he's been using his changeup off it as well.
Adonis Uceta, Mets No. 20 prospect Ryley Gilliam and Matt Blackham combined for the final 3 2/3 innings as the Rumble Ponies posted their league-leading eighth shutout.
Barrett Barnes scored the game's lone run in the fourth inning on an error by Welker at third base.
Andrew Battifarano is a contributor to MiLB.com. Follow him on Twitter, @AndrewAtBatt.