Neidert, Miller headline Marlins All-Stars
No. 4 and No. 12 prospects impress in 2018 in rebuilding system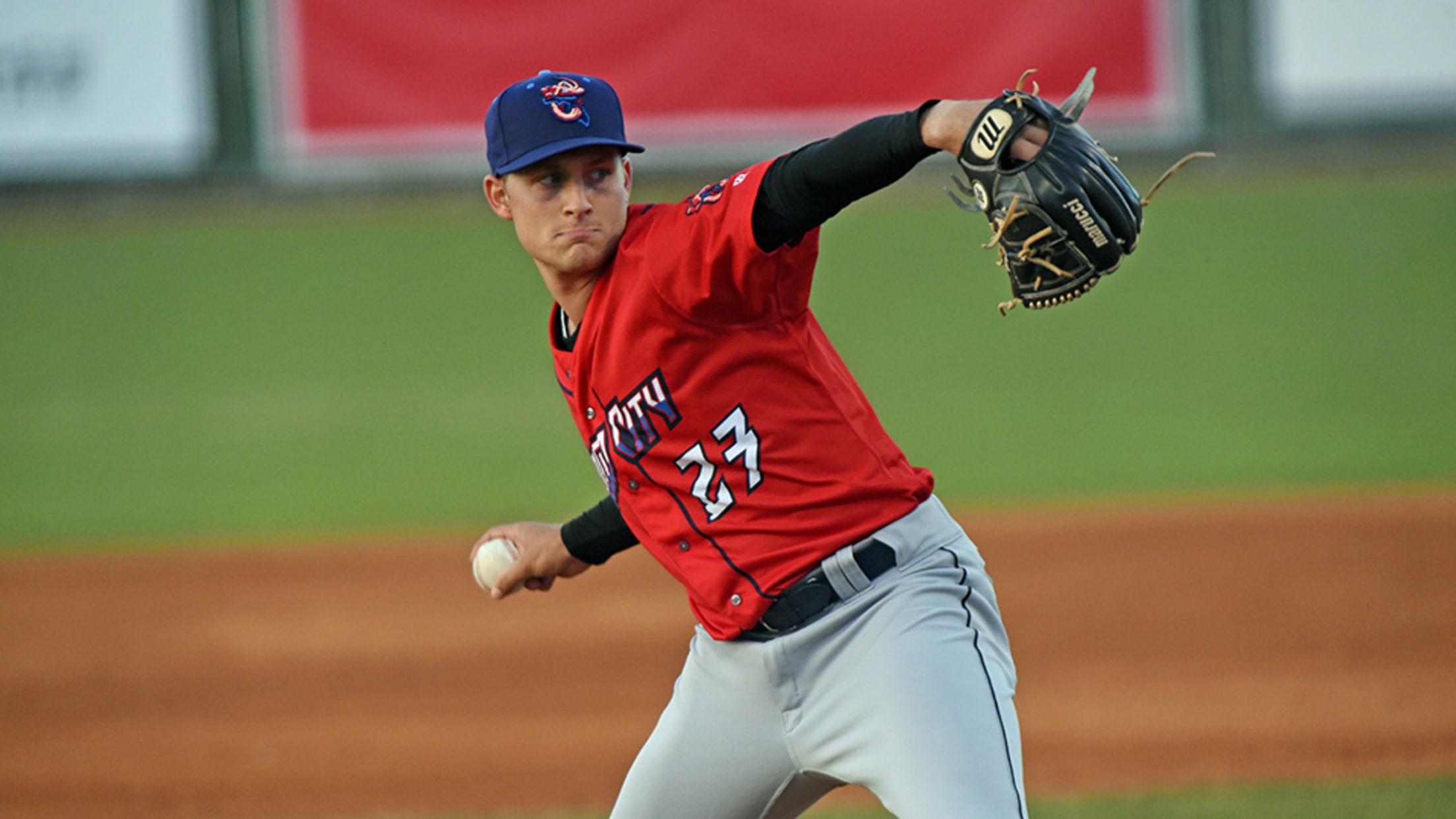 Nick Neidert's 154 strikeouts were a new career high for the right-hander. (Brian McLeod/MiLB.com)
Each offseason, MiLB.com goes position by position across each system and honors the players -- regardless of age or prospect status -- who had the best seasons in their organization. Click here to locate your favorite club.A team that hit the reset button prior to the 2018 campaign, the Marlins
Each offseason, MiLB.com goes position by position across each system and honors the players -- regardless of age or prospect status -- who had the best seasons in their organization. Click here to locate your favorite club.
A team that hit the reset button prior to the 2018 campaign, the Marlins dealt their entire starting outfield from 2017 in hopes of beginning a rebuilding process under new ownership. A slew of offseason moves helped Miami in that regard, giving the system a much-needed influx of talent in the Minor Leagues.
Though Miami did not put any teams in the postseason, with the acquisitions of Monte Harrison, Sandy Alcantara and Nick Neidert -- among plenty of others -- the front office established an up-and-coming core that will only get better as key prospects develop.
Marlins Organization All-Stars
Catcher -- Austin Nola, New Orleans (69 games):
In his seventh year with the organization, the veteran pieced together his finest season at the plate. After posting a .641 OPS between two levels in 2017, Nola improved with a .279 average and a career-high.746 OPS for the Baby Cakes. The former shortstop jumped out of the gate, hitting .293/.368/.400 through the first 45 contests of the season.
And behind the plate, Nola continued to be a valuable asset for the pitching staff, throwing out 37 percent of would-be basestealers in his second full season as a catcher.
First baseman -- John Silviano, GCL Marlins (five games), Jupiter (65 games), Jacksonville (20 games):
After a tough go-around in his first two seasons with the Marlins, Silviano broke through in a big way this year. Back in the Florida State League for a second stint, he posted a .281 average, a team-best 12 home runs and an .854 OPS -- which would have ranked third on the circuit had he had enough at-bats to qualify.
After hitting .226 in May, Silviano started to take his game to another level in June. Over 16 games that month before he hit the disabled list, he batted .368 with a 1.169 OPS, five homers and 12 RBIs. The explosion at the plate earned him a cup of coffee in Double-A when he was healthy, for the final month of the season.
Organization All-Stars by MLB affiliate »Second baseman -- Isan Díaz, Jacksonville (83 games), New Orleans (36 games):
Acquired as one of the many pieces in the Christian Yelich trade from the Brewers, the 22-year-old Diaz joined his third organization in four years. The Puerto Rico native wasted no time displaying the tools that make him a promising middle infielder the Marlins' future.
In his first crack at Double-A, Diaz mashed 10 homers with 42 RBIs, finishing his tour in the Southern League with a .784 OPS -- the highest mark on the club of anyone who played at least 80 games. For the final third of the year, Diaz moved up to the Pacific Coast League and, despite struggling to hit consistently, belted three dingers with New Orleans.
Jacksonville manager Randy Ready was impressed by the extra defensive work Diaz put in during his time with the Jumbo Shrimp. He maintained a personal-best .973 fielding percentage throughout the season.
"Pleasantly surprising was his defensive play," Ready said. "He was a very dependable defender. He worked very hard on his defense and established a routine every day in his pregame routine. He also worked hard on his pivot, and that progressed very nicely. His range improved, and most importantly, defensively, was his dependability and consistency in the field."
Third baseman -- Brian Schales, Jacksonville (127 games): In his third full season as a pro, Schales broke through as a consistent presence at the plate and at the hot corner. Offensively, Schales set career highs in home runs (10), doubles (27), on-base percentage (.354), slugging (.403), OPS (.757) and total bases (170).
In June, the 2014 fourth-round pick batted .185, but rebounded by hitting .285 with five home runs over the course of July and August, earning him a postseason All-Star nod in the Southern League.
"Brian has been maturing each and every season from a defensive standpoint and from an offensive standpoint," Ready said. "Offensively, he hung in there and was [hitting] .270 at one point during the season. ... I thought he made a lot of adjustments and made some nice progress offensively with his timing and his contact point."
Shortstop -- Jose Devers, Greensboro (85 games), Jupiter (two games): One of the trade pieces that came over in the Giancarlo Stanton deal with the Yankees, Devers firmly entrenched himself as a strong shortstop with the Grasshoppers in his first full season.
Although he lacked power (he had a .332 slugging percentage), he batted .273 in the South Atlantic League. In the first half, Devers put up a .284 average with 13 extra-base hits and earned a spot on the Northern Division squad in the SAL All-Star Game.
Keeping a solid glove, he committed seven errors in 241 chances for a .971 fielding percentage, improving upon his .933 mark from 2017.
Outfielders
Austin Dean, Jacksonville (22 games), New Orleans (87 games), Miami (34 games): Among full-season players in the system, there was no one better at the plate than Dean this season. The 25-year-old started the campaign with the Jumbo Shrimp, putting forth an impressive .420 average with 12 extra-base hits and 14 RBIs through 22 games en route to Southern League Player of the Month honors for April. The fast start earned him an early promotion to the PCL.
In his first crack at Triple-A, Dean hit .320/.397/.475 with nine home runs in 87 games. In 11 August contests, he hit .465 with four roundtrippers and grabbed another Player of the Week award.
The highly productive stretch got him his first Major League callup.
Brian Miller, Jupiter (62 games), Jacksonville (66 games): A consistent tablesetter, the club's 12th-ranked prospect put the pressure on the opposition regularly at the plate and on the base paths.
Between two levels this season, Miller amassed a .295 average and .338 on-base percentage, but that only tells part of the story. He swiped an organization-best 40 bases one year after he stole 21 with Greensboro.
Using that speed to his best ability in the field, Miller held a .992 fielding percentage (two errors on 250 chances) while accumulating five assists.
With a lack of fear in all facets of the game, he made himself a better player each day, according to Ready.
"Brian can manipulate the barrel and handle so many different pitches within the strike zone," the Jacksonville skipper said. "There were balls put in play and the ability to use the whole field. ... The biggest plus was his ability to steal bases. ... Catchers in Double-A have at least average pop time, and to steal that many bases was quite a nice feather in his cap."
Monte Harrison, Jacksonville (136 games): One of the headlining pieces in the Yelich deal, Harrison flashed all of his tools in his first campaign with Miami. Though he struck out 215 times and held a .316 on-base percentage with Jacksonville, he led the team with 19 home runs while stealing 28 bases.
Harrison also collected 42 extra-base hits and 48 RBIs, and was named a midseason and postseason All-Star in the Southern League.
"He has the speed-power combination and he's certainly a tools-out player," Ready said. "If he cuts down on the strikeouts, he has an opportunity to have a nice career."
Honorable mention -- Anfernee Seymour, Florida (24 games), Jupiter (51 games), Jacksonville (25 games): Drafted by the Marlins in 2014 but traded to the Braves two years later, the 23-year-old started this season slow with the Fire Frogs (.195 average in 23 games) and got released by Atlanta. Miami inked him as a free agent in May, and he turned things on with a .284 average, 19 extra-base hits and a .433 slugging percentage in 51 games with Jupiter. His strong play earned him a chance in Double-A, where he maintained a.345 on-base percentage over 25 games.
Utility player -- Peter O'Brien, Tulsa (31 games), Jacksonville (43 games), New Orleans (36 games), Miami (22 games): Traded to the Marlins from the Dodgers for cash on June 1, the seven-year veteran came through time and time again with the bat. Putting his impressive power on display, O'Brien blasted 23 home runs after coming to the organization to finish the season with 30 dingers.
His presence and character also made him a positive influence in the clubhouse.
"With Peter, there's no doubt that he's a class act on and off the field," Ready said. "He prepares very well and is a total professional. He's a good ambassador and he represents well as a player on the field with his work habit and also as a teammate."
Right-handed starter -- Nick Neidert, Jacksonville (26 starts): Another part of the talent infusion that came in the offseason, Neidert proved a workhorse in his first campaign with the Marlins. The SL All-Star led the organization with 152 2/3 innings pitched and 154 strikeouts as he made a career-high 26 starts, ending the year with a 3.24 ERA and 1.13 WHIP -- both good for third in the Southern League.
"I think the biggest compliment you could give a starting pitcher is [that he gives the team] an opportunity and chance to win," Ready said. "Each and every time Nick took the mound and started, that just showed how dependable he was and we had confidence that we were going to win the game that night. There were times where he didn't get run support, but he maintained his part of the game and shut the opposition down."
Left-handed starter -- Daniel Castano, GCL Marlins (two games, one start), Greensboro (eight starts), Jupiter (14 starts): Castano picked up nine wins for the second consecutive season and was particularly strong in his short tenure in the South Atlantic League, posting a 2.70 ERA and 1.04 WHIP and striking out 52 in 50 innings.
Overall in his first full season, Castano had a 3.93 ERA and 1.34 WHIP while making 13 starts in which he completed at least six innings.
Relief pitcher -- Dylan Lee, Jupiter (22 games), Jacksonville (12 games), New Orleans (10 games): The left-hander out of Fresno State pieced together a shutdown campaign that spanned three levels. Beginning his impressive journey with Jupiter, Lee held a 1.45 ERA and 1.00 WHIP before moving on up to Jacksonville, where he didn't allow a run in any of his 12 appearances.
"Lee would come in and slam the door," Ready said. "He got ready in the bullpen and when he came in the game, he was on a mission and it certainly showed. Great angle with the fastball -- downhill plane -- and commanded the strike zone with the fastball on both sides, up and down. And he had the wipeout slider with the change that was becoming an average to above-average pitch. That's why he earned the promotion to Triple-A."
Making 10 relief appearances for the Baby Cakes down the stretch, he whiffed 19 batters in 16 frames.
Andrew Battifarano is a contributor to MiLB.com. Follow him on Twitter, @AndrewAtBatt.