Quiroz's interesting journey nears destination
Rays No. 30 prospect on 60-man roster, nine years after pro start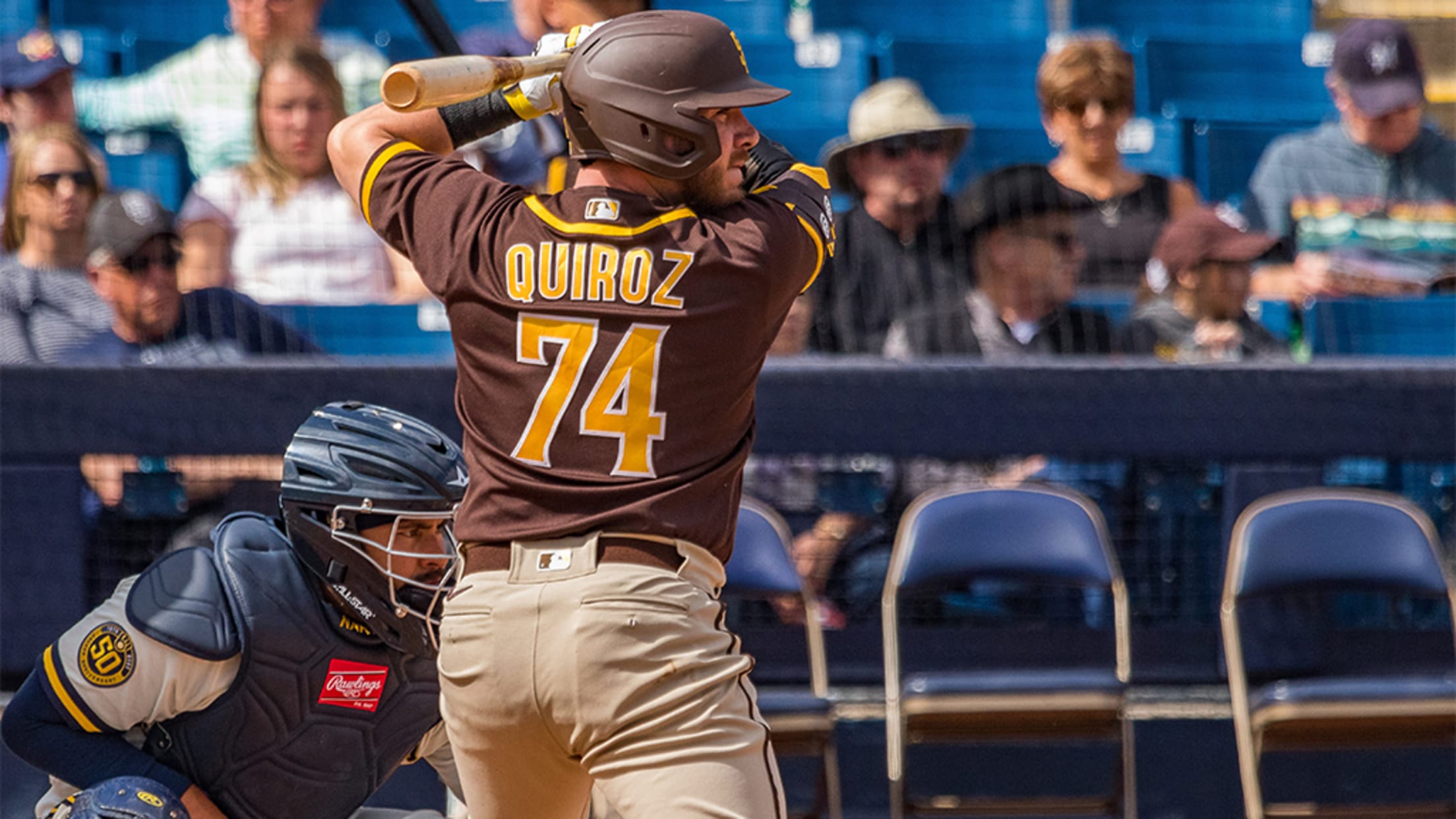 Esteban Quiroz last appeared in a Minor League game in the Padres system in 2019. (Freek Bouw/Phrake Photography)
Despite taking one of the more circuitous routes to this point in his career, Esteban Quiroz's experience in recent months is probably familiar to many around the world. After the official cancellation of Spring Training, Quiroz -- then at Padres camp in Peoria, Arizona -- returned to his native Obregon
Despite taking one of the more circuitous routes to this point in his career, Esteban Quiroz's experience in recent months is probably familiar to many around the world.
After the official cancellation of Spring Training, Quiroz -- then at Padres camp in Peoria, Arizona -- returned to his native Obregon in the state of Sonora, Mexico. The 28-year-old waited with his family for news that might get their lives back to normal. Near the beginning of his quarantine, however, he received an update that's less familiar to the common man but all too familiar to him.
The trade that sent outfielder Tommy Pham to the Padres in December was met with mixed reactions. San Diego brought an All-Star into the lineup at the expense Hunter Renfroe and Xavier Edwards, an everyday outfielder and a prospect who, despite the apprehension of Blake Snell, fits comfortably into MLB Pipeline's Top 100.
Tampa Bay also was due a player to be named. After three months – and 10 days into the global pandemic – Quiroz discovered he was headed to a new organization when the season resumed.
"I had already been home a few days after they sent us home from the complex once this pandemic started," Quiroz said through Rays interpreter Manny Navarro. "But as soon as I got the news, I just continued to do what I was doing. I was riding my bike a lot, I was doing my training and I was just getting ready to play."
Joining the Rays offered an immediate opportunity for the 5-foot-6, 199-pound infielder that he might not have had in San Diego. Quiroz, the Rays' 30th-ranked prospect, earned a spot on the 60-man Summer Camp roster and opened the regular season at the club's alternate training site in Port Charlotte, Florida.
"I knew in San Diego it would probably have been disappointing -- I didn't even have a shot to go to the big leagues with the players they have or if I were to even be within their 60 players." said Quiroz, who spent all of last season with Triple-A El Paso. "Talking through people and other players and they told me about the organization here in Tampa, they said it was probably a good trade. It was probably a good time for myself to have an opportunity to play there, to make it to the big leagues, and I can be very grateful for that."
Similar to what the pandemic did to amateur players hoping to boost their Draft stock this spring, Kevin Ibach was denied his opportunity for a final look at the potential "player to be named."
The Rays senior director of pro personnel and scouting was within two days of flying out to Peoria, hoping to watch the end of Spring Training and make a final decision on the PTBNL. But his plans were scrapped when camp shut down and he never got a chance to get an in-person look at any of the options, including Quiroz, one final time.
Although things couldn't go according to plan, Ibach and the Rays felt comfortable selecting Quiroz -- weeks before their deadline to decide – based on their established history of scouting the player. Tampa Bay had been able to compile a couple years' worth of reports on Quiroz, mostly from his time in affiliated ball. But his professional career started long before he got stateside.
Just before his 19th birthday, Quiroz signed with the Tigres de Quintana Roo, more than 2,000 miles from his hometown, in the Mexican League. He stayed with the Tigres for six seasons before being traded -- the first of three times in his professional career – to the Leones de Yucatan in 2017. Quiroz also played a season of winter ball back home in Obregon and three more with the Mexican Pacific League club in Mazatlan before signing with the Red Sox in April 2018.
"We had a decent network of people in Mexico to help us with that. Just our contacts out there. Really, nobody had a bad word to say about the kid," said Marcus Cuellar, the Red Sox international scouting coordinator and the scout who brought Quiroz into the Boston system. "The impression that we got of him was a dedicated ballplayer. A good family man, really no key red flags for us."
Working under the Allard Baird-Jared Banner regime that now runs the same department for the Mets, Cuellar's introduction to Quiroz came through box scores and stat sheets. Unlike rules for other countries in South America and the Caribbean, Major League Baseball's agreement with the Mexican League is like that of the Japanese or Cuban leagues in which big league clubs must to work out deals with specific clubs to bring a player into affiliated ball.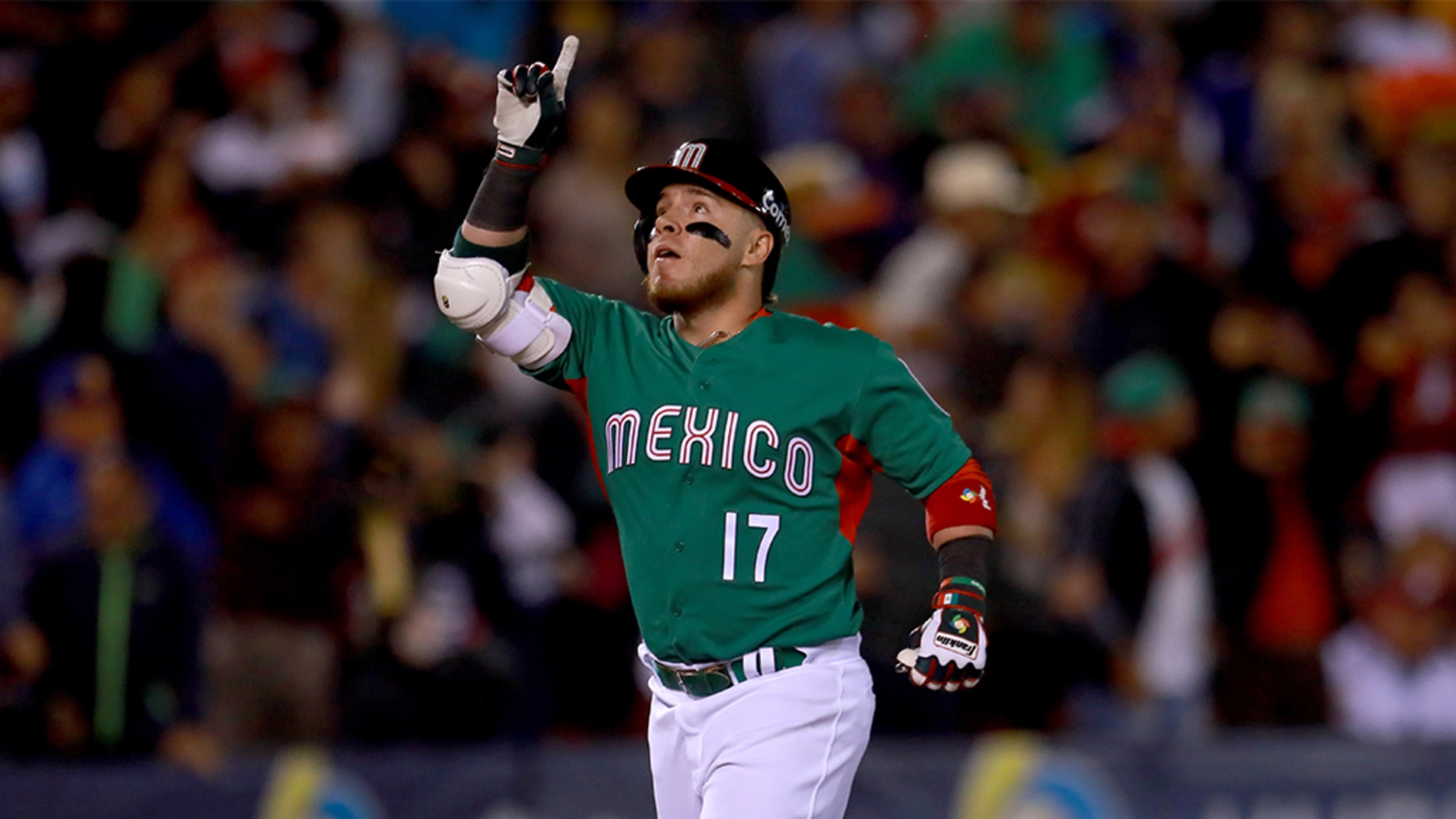 This process can be limiting for scouts and susceptible to corruption, which eventually caused MLB to impose a nine-month hold on deals with Mexican League teams, beginning about two months after Quiroz joined the Red Sox.
Boston had signed right-hander and fellow Obregon native Hector Velazquez out of the Mexican League in 2017. The move familiarized Cuellar with the process and provided something of a blueprint for the Quiroz deal. But it still took a little more work to better understand Quiroz as a player.
"Paying attention to the stat lines out of there … the on-base percentage … there was an improvement in his career," Cuellar recalled. "He figured something out where he was able to just gradually reduce the strikeouts and really up his on-base percentage. Not just the walks, the slugging percentage as well. There was some damage to his hit tool."
In 437 games over seven seasons in Mexico, Quiroz batted .293/.402/.451 with 244 runs scored and 176 RBIs. He came on strong in his final two years with Quintana Roo, including a career-best .335/.449/.522 slash line in a personal-best 97 games in 2016.
Cuellar took note of the fact that walks outnumbered strikeouts in Quiroz's last two seasons in Mexico. But it was his performance in the 2017 World Baseball Classic that really grabbed Cuellar's attention once he got to see him in person for the first time.
Quiroz totaled 58 homers in the Mexican League and winter ball. But in six at-bats at the WBC, he went yard twice and doubled.
It'd be another year before Quiroz signed with the Red Sox and it took some time for the team and Yucatan to negotiate his release fee. But Quiroz knew he was ready to make the jump to affiliated ball. Fortunately, despite whatever messiness other signings may have caused, the Boston deal went smoothly and he opened the following spring in the Grapefruit League.
"No Mexican novella in that one," Cuellar remembered.
The second baseman tore the cover off the ball with Double-A Portland and could have made a push for Triple-A had a sports hernia not limited him to 32 games in his first U.S. season, including eight rehab appearances in the Rookie-level Gulf Coast League. Already one of the older players in the clubhouse at the time, he found some of his biggest challenges to be cultural, even as it related to baseball.
"I wasn't able to communicate; I wasn't able to pick up the language as quick as I would like to," Quiroz said. "The main difference that I noticed just from being stateside is the level of work and work ethic that these players have. Here, they work so hard. Whereas in Mexico, they might not have that same mentality."
He said there's more access to training rooms, facilities and equipment that might help him get better physically and mentally. Adding that in Mexico, players seem satisfied playing games every day without as much emphasis on trying to improve. The focus an MLB organization has on the mental aspects of the game was different from what he was used to as well.
"Playing ball in the States, that was a quick acclimation for him," Cuellar said. "We got him focusing on his strength and conditioning routine. We got a good buy-in from him on that, a lot of focus from him on that. And, I mean, the work that he was putting in with our staff, you could see the improvement on the things that we were hoping that he would improve on and everything makeup-wise, he was always great with us."
Quiroz, a capable second baseman who's played all over the infield and had some limited outfield experience as a professional, made up for lost time in the Arizona Fall League by batting .267/.452/.511 in 14 games. He continued into the Mexican Pacific League and hit .255/.422/.520 with Los Mochis. Just before the end of the first half of the season, however, Quiroz was dealt to the Padres for right-hander Colten Brewer.
"Anybody that puts up kind of .400 on-base (percentage) consistently, I think, at least ends up on the radar of clubs," Padres director of baseball operations Nick Ennis said. "We had (Quiroz) evaluated as a guy who had some Major League attributes and could help a Major League club in some sort of role in the future."
The trade to San Diego was something of a mixed bag. The regular anxieties that come with being traded bubbled to the surface as Quiroz began to question his abilities and wonder if he's even good enough anymore. But, like his eventual attitude about the trade to Tampa Bay, he gleaned some positives.
"With the Red Sox, where they were located in Portland, Maine, it's a different culture," he said. "But being in El Paso, I had been able to speak a little more Spanish in that area, there's a lot more Spanish speakers. … But when I got on a baseball field, everyone speaks the same language."
Being in a prospect-rich system like San Diego's may have kept Quiroz from the Majors. But it created a strange dynamic where the new guy, in more ways than one, also was the veteran that players sometimes turned to for advice. Even in Portland, he was surrounded by advice-seeking prospects.
"They ask me a lot more about game situations. What happens in a game and how could I have done things differently or whatever it may be," Quiroz said. "They'll even approach me about life situations or what's going on in their personal lives, which I enjoy. I like to get to know my teammates and get to know what's going on in their head. But things like, 'How do you hit a fastball? What are you looking for when you notice his breaking ball?' whatever it may be as far as game situations. They just kind of want to have an extra edge and know what I'm thinking."
Ennis saw the value in having an experienced player comfortable in his own game and preparation in the clubhouse.
"[Quiroz] was a pro from Day 1 with us and obviously was a really good pro throughout his time at Triple-A," he said. "Whether that's real 1-to-1 mentoring or just setting a good example, yeah, he was a powerful presence."
Although he hasn't spent a long time with any one team since being traded from Quintana Roo, Quiroz left a lasting impression on an August night in El Paso last year. The Chihuahuas entered the bottom of the ninth inning down, 12-5, against Round Rock.
"I couldn't remember what inning it was, (I was told) to start warming up because I might bat, but then I looked at the situation and realized, 'I don't think I'm going to actually hit,'" Quiroz recalled. "I actually didn't even really warm up, I didn't even take that many swings."
El Paso mounted a 10-run comeback that was capped by Quiroz's walk-off grand slam.
"All I was trying to do was make contact, just kind of give it a smooth swing," he recalled. "You don't think about the results or the records you break or anything at the time of the game, so I just try to keep it as simple as I can, and that's what happened. It was definitely a good moment for me to cherish."
Now with the Rays, Quiroz has an opportunity at the alternate site to impart some wisdom on some of the game's best young players, including the top overall prospect Wander Franco and 44th-ranked Vidal Brujan, both of whom are also Spanish-speaking infielders.
"It's a form of good sportsmanship to where we like to help each other out," Quiroz said. "My goal here is just to be able to get along with them and cope with them as best as I can and then just try to help each other out to become the best baseball players we can be."
Gerard Gilberto_ is a contributor to MiLB.com. Follow and interact with him on Twitter, _**@Gerard_Gilberto**._