Toolshed: Neidert acclimating with Marlins
No. 3 Miami prospect adjusting well during first season in system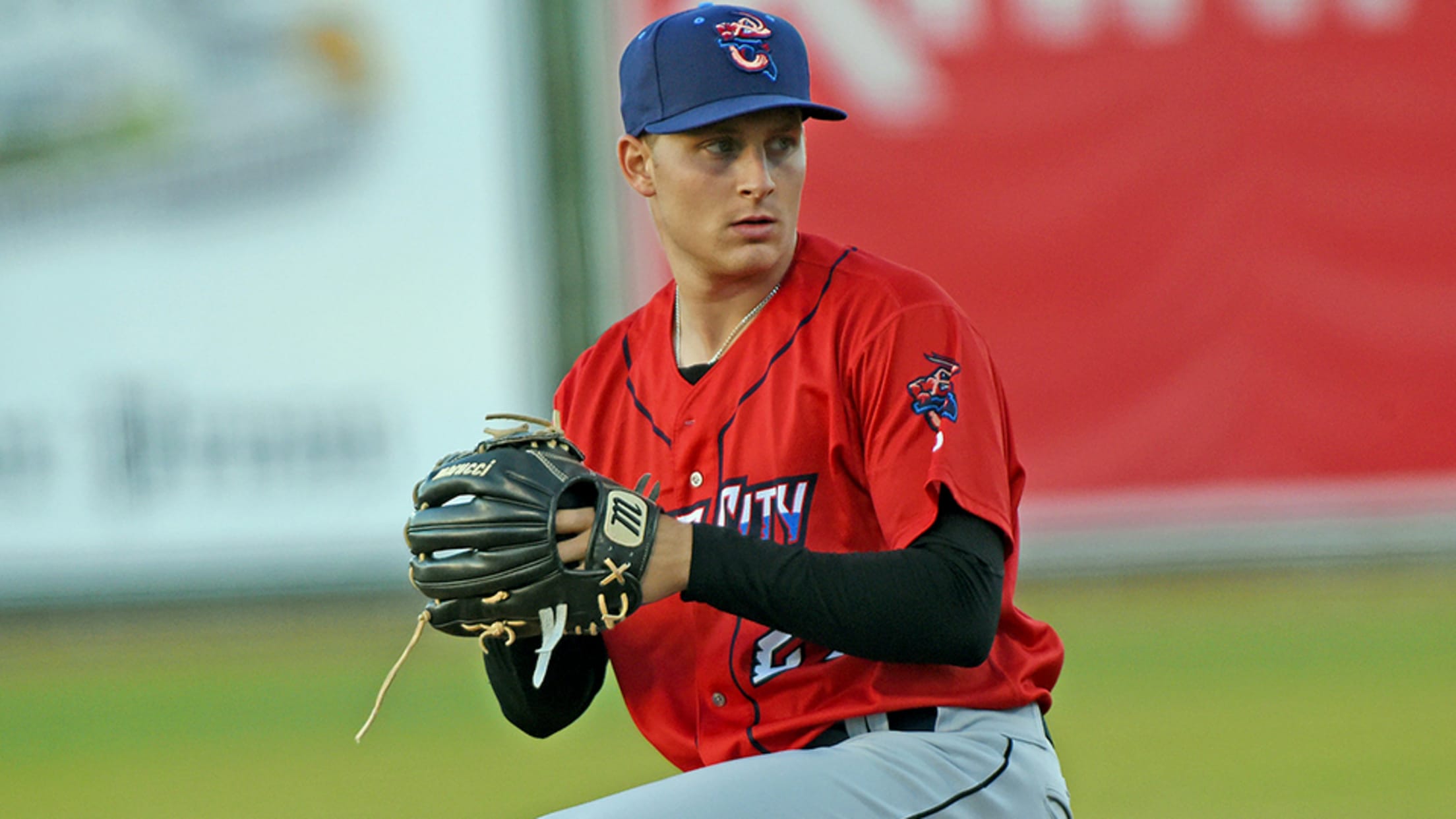 Nick Neidert has posted a 1.13 WHIP over 135 innings with Double-A Jacksonville this season. (Brian McLeod/MiLB.com)
Nick Neidert was shocked at first.He had developed from a 2015 second-round pick out of a Georgia high school into the No. 2 prospect in the Mariners system. And yet, he was being traded. Specifically, he was headed to the Marlins, who were dealing two-time All-Star infielder Dee Gordon for
Nick Neidert was shocked at first.
He had developed from a 2015 second-round pick out of a Georgia high school into the No. 2 prospect in the Mariners system. And yet, he was being traded. Specifically, he was headed to the Marlins, who were dealing two-time All-Star infielder Dee Gordon for Neidert, No. 7 prospect Christopher Torres and right-handed pitcher Robert Dugger. Neidert was the top pitching prospect in a Seattle organization that was light on arms but famous for being more interested in swapping Minor Leaguers for Major Leaguers than graduating them. Now, he was going to a club that needed all the young talent it could get as it began a multi-year rebuild.
It was all a bit difficult to swallow... for a second or two.
"They said a lot of good things at first, but what stuck out to me was when the Mariners told me, 'You know how highly we think of you, and well, the Marlins seem to like even more than that,'" Neidert said. "That put it all into perspective. Then to be traded for Dee Gordon, one of the best players in the game for a while, it was all very special. I was excited to be in the mix for what they are trying to build here."
As the 2018 season begins to wind down, Neidert -- now with Double-A Jacksonville -- remains one of the most promising pitching prospects in the Miami system, solidifying his place in the organization's long-term plans. In fact, he might be the perfect fit.
At the time of the trade, the 21-year-old right-hander was coming off a season in which he posted a 2.76 ERA with 109 strikeouts and only 17 walks in 104 1/3 innings at Class A Advanced Modesto before stumbling in his first taste of Double-A with Arkansas (6.56 ERA in 23 1/3 frames). That trip to the Texas League was always meant to get Neidert's feet wet, though. Instead of focusing on the rough outings at the Minors' second-highest level, he traveled back to his native Atlanta thinking about the positives -- namely that he posted the lowest ERA among California League pitchers with at least 100 innings and that he'd shown impressive-enough control to rank third among Class A Advanced hurlers with a 6.4 K/BB ratio.
It didn't take long for the Marlins to show they were prepared to focus on the positives as well. Under the guidance of new CEO Derek Jeter and director of player development Gary Denbo -- who was hired directly from the Yankees in part because of his connection to Jeter dating back to when he served as the shortstop's manager in the Gulf Coast League in 1992 -- Miami invited Neidert to what it called Captain's Camp, a holdover from New York where certain Minor Leaguers take a three-week orientation course in February to learn about what the organization expects from its leaders. There were talks from former Major Leaguers like Juan Pierre and Mike Lowell. There was the first trip to Marlins Park. But really for Neidert and other new additions like Monte Harrison, Isan Díaz and Zac Gallen -- prospects acquired in other deals for Christian Yelich and Marcell Ozuna -- it was a place to make a first impression.
"Honestly, it was one of the best experiences I've had in baseball," Neidert said. "They definitely knew how to show interest in us as leaders right away. Gary did a great job of making everyone feel welcome and explaining what was expected of us right away. He wants to win extremely bad, and they're going to push us all to make that happen with the collection of guys we have. You knew right away that it would be tremendous when we could put this all together."
Neidert also received a non-roster invitation to Spring Training, and after making the first two Grapefruit League appearances of his career, the 6-foot-1 hurler was prepared to get down to brass tacks with the Minor League staff. A right-hander who typically throws in the low-90s and works with a plus changeup and an average slider -- all with 60-grade control -- might not turn every head in today's game, with pitchers (like other Marlins pickups Jose Guzman and Sandy Alcantara) throwing harder than ever. But the Fish immediately made sure Neidert knew why they picked him up.
"One of the first things [Minor League pitching coordinator] Chris Michalak told me is that he didn't care about velocity," Neidert said. "You could be pitching 84-86, but if you're pitching well, they'll move you. That's awesome to hear for someone like myself, who is going to sit low-90s but can make it work. It's really uplifting. They look at you for who you are and how you're doing."
Miami assigned Neidert to Double-A to begin 2018, and although he's been in Jacksonville all season, there's no doubt that he's improved his standing in his return to the level. After allowing one earned run in seven innings Wednesday at Pensacola, the Jumbo Shrimp righty ranks fourth in the Southern League with a 3.13 ERA and 1.13 WHIP and sits second with 140 strikeouts through 135 innings. The control is back as well, with his 5.2 percent walk rate and 5.0 K/BB each ranking fourth among SL qualifiers.
This clearly isn't the same pitcher who struggled in his brief Texas League look last year. One of the first things he learned at Double-A was that even with his impressive control, he would have to command his pitches differently.
"They're the same exact caliber of hitters here," he said. "I just needed some better sequencing. They'll capitalize on your mistakes, too, so I needed to make sure my misses were coming out of the zone. I can pitch in the zone fine, but if my mistakes are coming in there too, that's when they can do damage. It just came down to trusting who I am and knowing I can pitch in the zone when I need to and can get away from hitters when I need to, too."
While the Marlins have taught Neidert to rely on the strengths he's always had, he's also beginning to add new ones, thanks in part to Miami's rebuild efforts.
Last Friday, the Marlins moved first baseman Justin Bour to the Phillies, picking up left-hander McKenzie Mills in the process. The southpaw, who has an above-average curveball, was moved to Jacksonville shortly after the trade, and it didn't take long for Neidert to pick his brain.
"We were playing catch, and he was asking about how I throw my slider, so I turned it around and asked about his curveball," Neidert said. "He talked about getting way back with it and almost getting it out right in front of his face. So I threw a couple like that to him, and he said it had a good shape to them. I felt pretty good with it, too, after playing with it for a couple days. So before [Wednesday's outing], I told [pitching coach Dave LaRoche], 'I'm going to break out a couple today.' He was a little surprised, but I just wanted to keep it to a couple 0-0 counts, see how it felt. I thought it was really successful at keeping guys honest and off-balance, even if I only threw it four or five times. It's just another fun thing I'm hoping to develop."
If Neidert does add a consistent fourth pitch, that would only make his profile even more enticing entering 2019. As it stands, he's the Marlins' No. 3 prospect (up from the No. 10 spot to begin the season) and with his pitchability, it's not hard to picture him becoming a solid No. 4 starter in the Major Leagues by the second half of next season. That's not necessarily flashy, but it would get him a seat at the table for years, even if all the talent in the Miami pipeline blooms perfectly. He's already hoped to model his introduction to the Majors after that of fellow Captain's Camp participant Trevor Richards, who averages about 90 mph with his fastball but has posted a 4.28 ERA in 18 Major League starts after beginning the season at Triple-A New Orleans.
Whenever his arrival comes, Neidert dreams of being just as big a part of Miami's long-term plans as it seemed he would be when he got that phone call last December.
"Monte and I have talked about next year a lot," he said. "You look around and see the guys they've brought in and who they could still bring in and how things are shaping up. It's super-exciting for all of us to be a part of it."
Sam Dykstra is a reporter for MiLB.com. Follow and interact with him on Twitter, @SamDykstraMiLB.