Schultz spins gem in New Hampshire win
Paxton Schultz throws near-perfect start as Fisher Cats take edge in Hartford series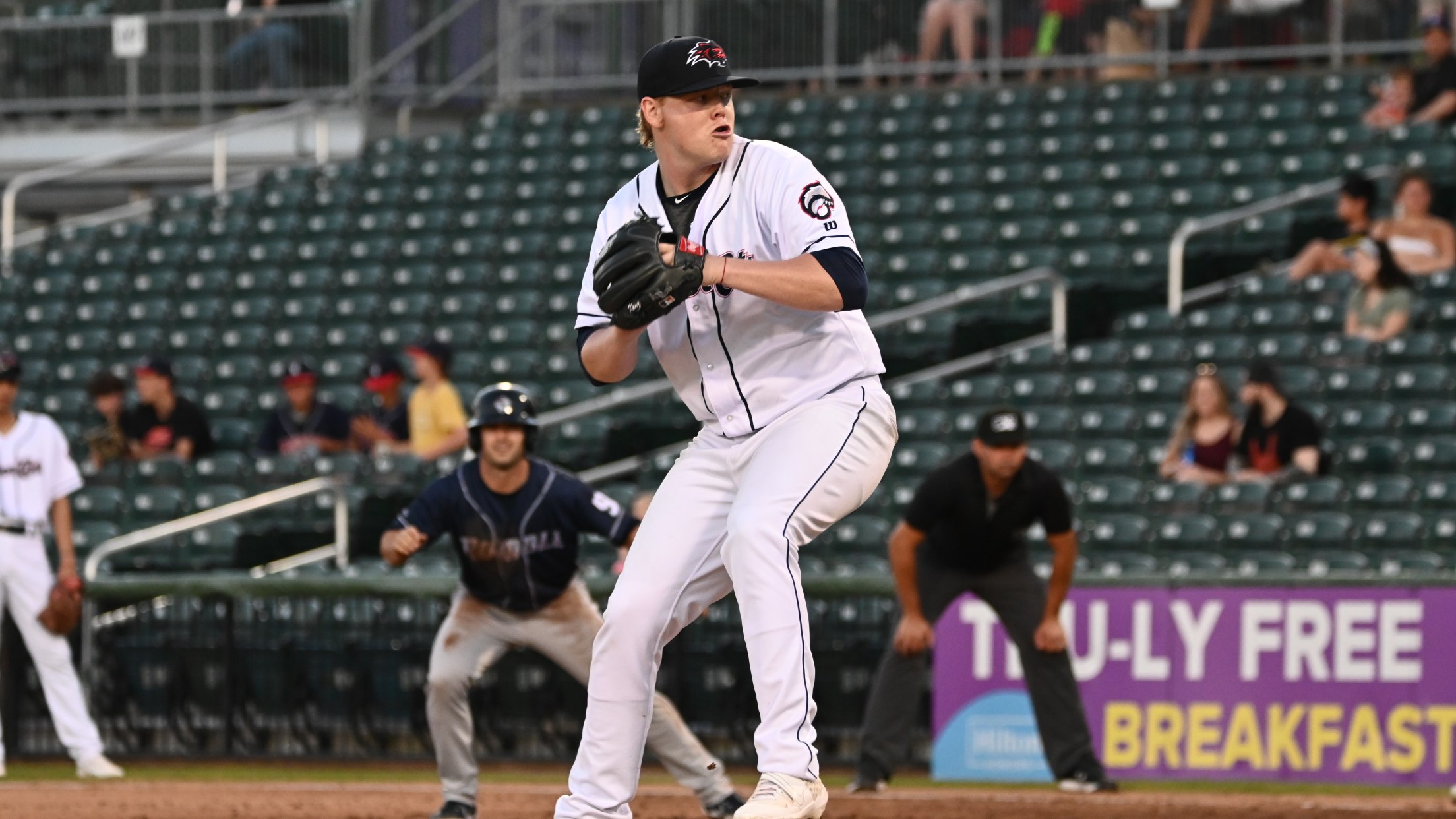 (Photo courtesy of Cindy Lavigne)
Manchester, New Hampshire – Paxton Schultz dominated on Saturday night at Delta Dental Stadium, allowing two baserunners in 5.2 innings of work. He was one out away from a quality start, and the New Hampshire Fisher Cats (5-6, 35-44) defeated the Hartford Yard Goats (Colorado Rockies, 5-6, 48-32), 5-4, in
Manchester, New Hampshire – Paxton Schultz dominated on Saturday night at Delta Dental Stadium, allowing two baserunners in 5.2 innings of work. He was one out away from a quality start, and the New Hampshire Fisher Cats (5-6, 35-44) defeated the Hartford Yard Goats (Colorado Rockies, 5-6, 48-32), 5-4, in their second straight win.
Schultz struck out two batters in the first inning and four on the night, allowing a two-out single from Hartford's Aaron Schunk. Following the base hit, Schultz retired 14 consecutive batters until a one-out walk in the sixth inning. Leadoff man Hunter Stovall then dropped a sacrifice bunt to move the runner to second base, and Schultz came out of the game.
Sean Mellen immediately gave up a double to Daniel Montano, bringing home a run that was charged to Schultz. He finished with 5.2 innings of work, allowing one hit and one earned run. He walked one, struck out four and threw 73 pitches.
Schultz was drafted in the 14th round of the 2019 MLB Draft by the Milwaukee Brewers out of Utah Valley University. He was traded to the Blue Jays in May 2021.
Homers made the difference for the Fisher Cats at the plate, as all five of their runs scored on long balls. Zac Cook smoked the first pitch of the home half of the first inning over the wall. Five of his 10 home runs this year have come against Hartford.
Ryan Gold then added a two-run blast in the third inning for his second home run in as many days, extending the New Hampshire lead to 3-1. Gold had two homers in his first 34 games of the season, and he's doubled that count this week.
Catcher Chris Bec smacked his first homer of the season in the seventh inning to put the Fisher Cats up four, 5-1. Sebastian Espino singled just before him for his second hit of the series.
Hartford stormed back with three runs in the ninth inning, but Sean Rackoski closed the door with a one-out save. New Hampshire now has the edge in the series, three games to two. The Fisher Cats can win their second consecutive series over Hartford with a victory tomorrow.
First pitch for the Sunday series finale comes tomorrow, July 10 at 1:35 p.m. against the Hartford Yard Goats (Colorado Rockies). Tickets can be found at NHFisherCats.com, via email at [email protected], over the phone at (603) 641-2005, or in-person at the Fisher Cats box office at 1 Line Drive in Manchester.