Sod Poodles Rally Late To Defeat Missions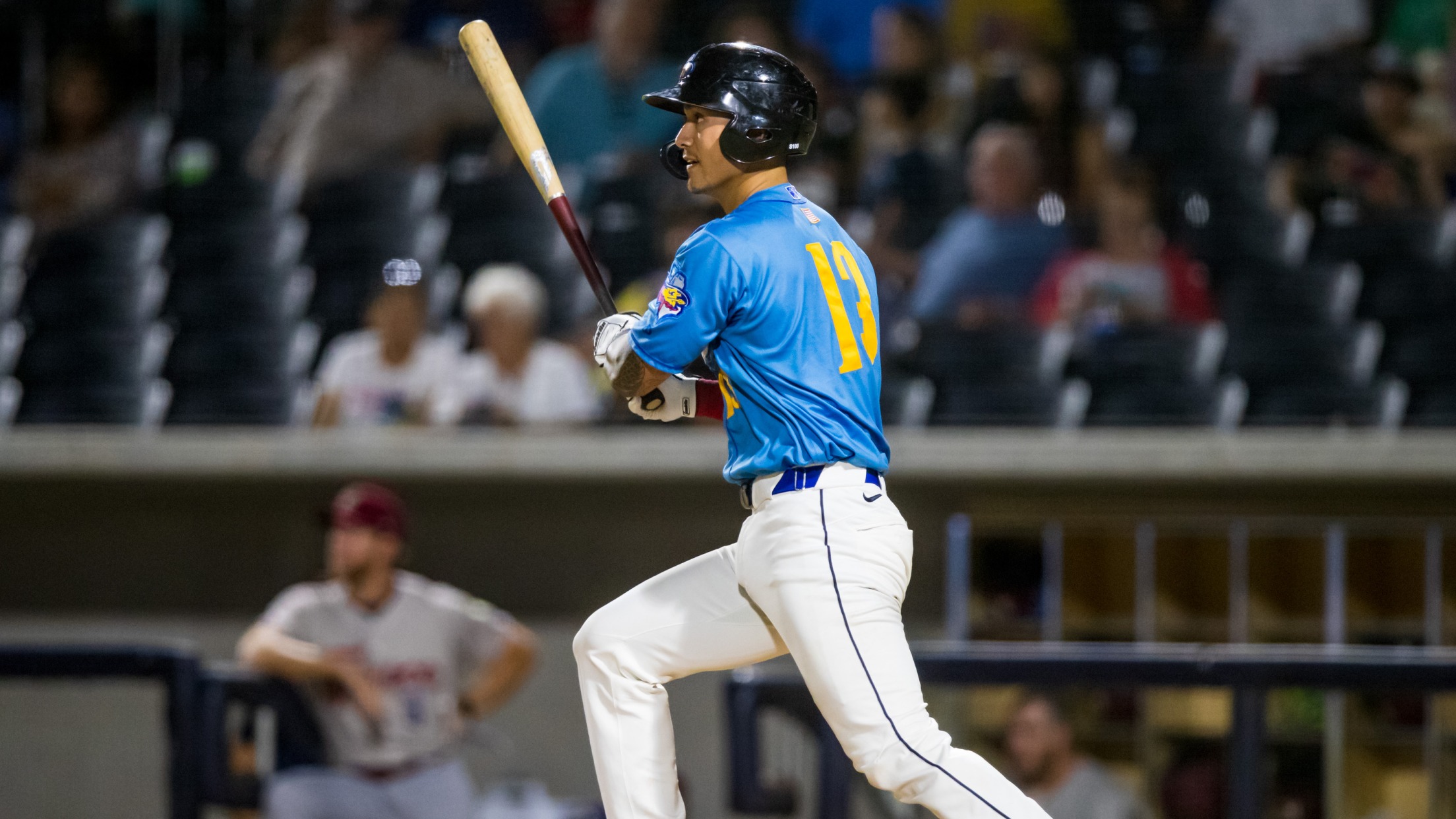 Thursday, September 2, 2021 at San Antonio [SD] Amarillo Sod Poodles (49-55) | San Antonio Missions (50-55) San Antonio, Texas — The Sod Poodles battled late with four unanswered runs to defeat the San Antonio Missions Thursday night by a final score of 6-5. After leading through five frames, the
Thursday, September 2, 2021 at San Antonio [SD]
Amarillo Sod Poodles (49-55) | San Antonio Missions (50-55)
*San Antonio, Texas *— The Sod Poodles battled late with four unanswered runs to defeat the San Antonio Missions Thursday night by a final score of 6-5.
After leading through five frames, the Missions rallied in the seventh to extend out to a 5-2 advantage before Amarillo charged right back with a four-run frame of their own in the penultimate batting half to take game four.
Andy Yerzy highlighted the Soddies offense with his 2-for-4 performance with an early go-ahead two-run home run and the go-ahead single in the eighth inning. Buddy Kennedy continued to stay hot with a three-hit night of his own while Geraldo Perdomo collected another multi-hit bout.
Arizona Diamondbacks No. 26 rated prospect Brandon Pfaadt made his third start Thursday night. The Bellarmine University product earned a no-decision after tossing five frames of one-hit (home run), one-run ball with two walks, and five strikeouts.
After three perfect frames dealt by Pfaadt, a leadoff walk to Esteury Ruiz in the fourth would end the rhythm and, following a stolen base and passed ball, Ethan Skender's single broke open the game to make it a 1-0 San Antonio advantage.
With just three hits coming into the frame, the Soddies immediately started in the right direction with Dominic Canzone's leadoff base hit. Yerzy following his call with a two-run home run to right field to take over with a 2-1 lead.
From the bottom of the fifth through the top of the seventh, no hits were exchanged on either side with only one baserunner in the span.
The Missions found late life in the seventh when they exploded for four runs in the frame. Eguy Rosario led off with a single and a pickoff error by Yerzy mixed with another single by Allen Cordoba tied the game at 2-2. Following a double play, three consecutive hits, including a double and a home run, pushed San Antonio ahead 5-2.
In the eighth, Soddies infielder Jancarlos Cintron led off with a single before Ben DeLuzio traded places after his force-out groundball to second to retire Cintron. With Perdomo at the plate, DeLuzio swiped second base on a steal before plating Amarillo's third run on Perdomo's line-drive double down the right-field line. Stone Garrett battled in a 10-pitch at-bat to draw a walk while Kennedy singled to plate the fourth run. With Garrett just 90-feet away, Dominic Fletcher ripped a game-tying RBI single to make it a 5-5 contest. Canzone dribbled an infield groundball to send a sprinting Kennedy toward home but a play at the plate would keep the tie intact. But, Yerzy would come up big again with a two-out, go-ahead RBI single to take the lead again at 6-5.
In the ninth, despite a leadoff single and San Antonio pushing the tying run 90 feet away, Soddies closer Blake Rogers shut the door with a game-ending groundout to earn the save with two strikeouts.
The series continues with game five tomorrow with LHP and D-backs' No. 16 rated prospect Tommy Henry will make his team-leading 21st start and will face Missions' righty Tyler Viza. First pitch from Nelson W. Wolff Stadium on Friday night is scheduled for 7:05 PM.
Notes:
Yerzy City: Soddies catcher Andy Yerzy collected his second home run with Amarillo and 18th overall of 2021 to enter into a tie for first with fellow teammate Eduardo Diaz and Visalia's Neyfy Castillo among Top-10 D-backs minor leaguers. Buddy Kennedy and Stone Garrett trail them with 17 each.
Pfaadt 'Em Off: Right-hander and No. 26 rated prospect Brandon Pfaadt tossed his third start at Double-A on Thursday in San Antonio after a seven-inning shutout performance a week prior. In his third start, Pfaadt did not disappoint, tossing five frames of one-hit (home run), one-run ball with two walks, and five strikeouts. Over a combined 17.1 IP in Double-A thus far, he has allowed just three earned runs with 17 strikeouts. Pfaadt currently leads all D-backs minors in innings pitched with 115.2 combined innings this season.
*Save (x9): *Soddies closer Blake Rogers collected his ninth save and sixth save in his last six appearances. Rogers is currently second among D-backs minors in the category behind Miguel Aguilar who has converted 16-of-17 saves in 38 games versus Rogers 9-of-10 in just 18 appearances.
Late Push: The Soddies battled for their sixth win of 2021 when trailing after seven frames (6-43). After taking the lead in the eighth, the Soddies improved upon the respective record to 39-3.
Three For Kennedy: Buddy Kennedy collected his fifth three-hit performance of 2021 and 15th overall in his career. The most hits the Millville native has recorded in a game is four which occurred once on May 15, 2019 while with Kane County.
Rebounded: After halting their season-long winning streak of five games Wednesday, the Soddies rebounded with a Thursday win to even the week's series at 2-2. The teams is now batting .254 in games following a loss.