Gonsalves posts more zeros for Red Wings
Twins No. 4 prospect allows three hits over six shutout innings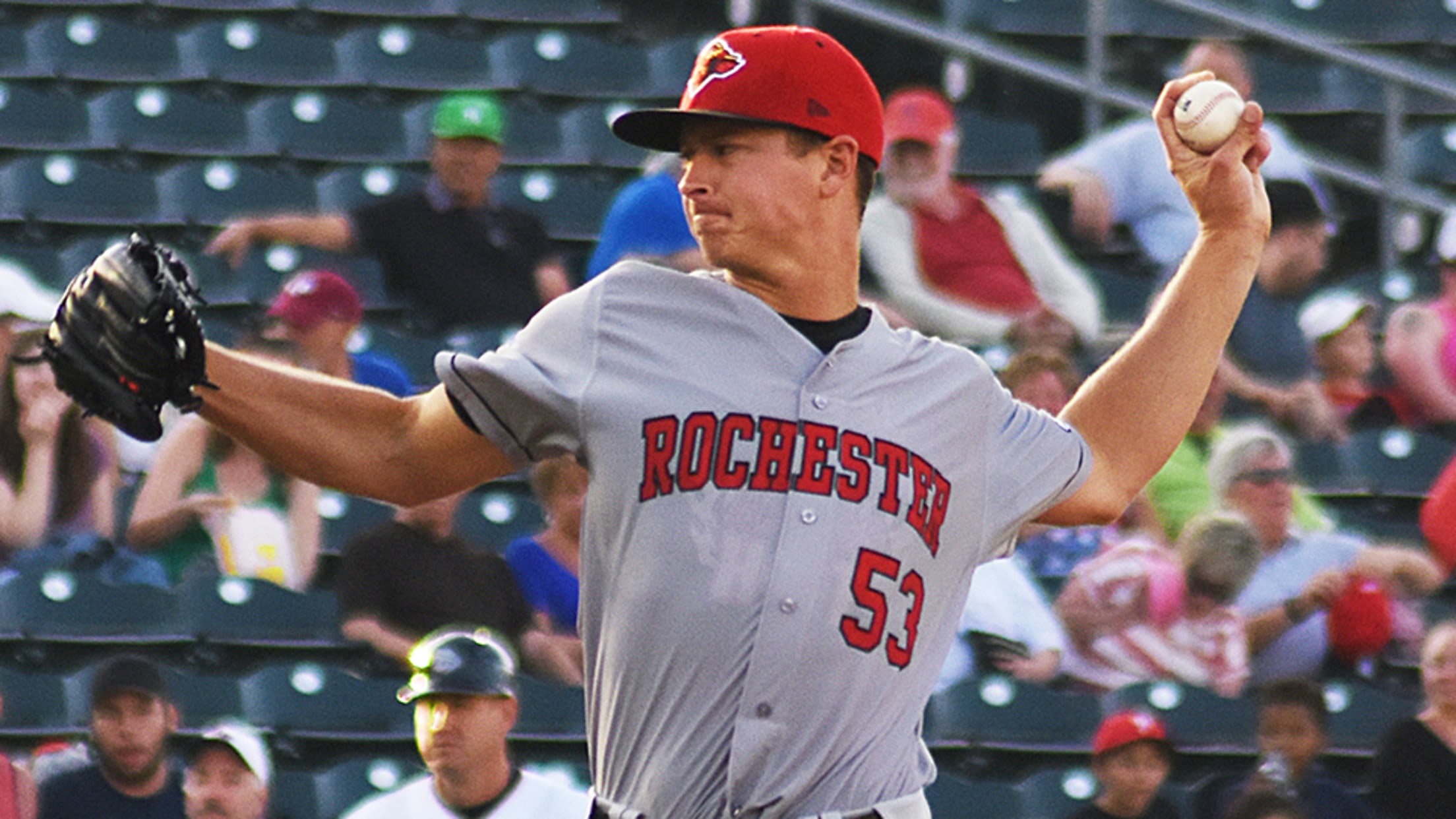 Stephen Gonsalves has given up two runs over his last 33 1/3 innings, dropping his ERA from 5.89 to 3.34. (Stephen Pellegrino)
Stephen Gonsalves is starting to become incredibly predictable, yet he remains nearly impossible to figure out. At least for International League hitters.On Wednesday, the Twins' fourth-ranked prospect delivered the fourth scoreless start in his past six outings, scattering three hits and five walks over six innings as Triple-A Rochester dropped
Stephen Gonsalves is starting to become incredibly predictable, yet he remains nearly impossible to figure out. At least for International League hitters.
On Wednesday, the Twins' fourth-ranked prospect delivered the fourth scoreless start in his past six outings, scattering three hits and five walks over six innings as Triple-A Rochester dropped a 2-0 decision to Louisville at Frontier Field. He struck out three and lowered his ERA on the circuit to 3.34.
"He just left runners out there by making pitches to get out of innings," Red Wings pitching coach Stu Cliburn said. "He's been able to get out of innings with traffic ... by just slowing the ball down with his changeup."
The 24-year-old has yielded only two runs over his past 33 1/3 innings for a 0.54 ERA. Wednesday marked the seventh Triple-A appearance in which he was unscored upon, ninth this season, but it also was just the second time since May 6 -- his second start on the level -- that Gonsalves completed six innings.
MLB.com's No. 72 overall prospect saw his walks per nine innings rate climb to 5.9 during the fourth game in which he's issued at least five free passes. Gonsalves has found the zone on 59.61 percent of his IL offerings and threw 56 of 100 pitches for strikes against Louisville. He's eclipsed 90 pitches in eight consecutive starts.
"His command of his fastball has not been real good," Cliburn said. "He'd be the first to tell you that he's not really struggling all-around. He finds a way to get outs, but I'm sure he would say that his fastball command needs to get a lot better to get to the next level. We all know that. He knows that."
Gameday box score
Cliburn said that Gonsalves improved his ability to throw the slider and curveball for strikes while he's never lost command of his best pitch, the changeup.
"That's a pitch he can go to and fill the air with and get guys out with that, and that's what he's used," the veteran pitching coach said.
He explained that many of Gonsalves' issues with fastball command were mechanical. The lanky 6-foot-5 southpaw wasn't always releasing the ball out in front and often would let go too soon, leading to misfires above the zone.
"We do pitch up occasionally with our staff and with our pitching over here with the Twins," Cliburn said. "We just continue to work with him on that and we can go from there."
While Gonsalves' apparent struggles seem daunting, they are outweighed by his ability to pitch to contact for outs. At its zenith, his opponents' batting average reached .228; that came after he surrendered 17 runs over 10 1/3 innings in three starts from May 29-June 11. Following Wednesday's outing, that mark dropped to .174.
"His velocity is in the 87-90 range, but he's got good carry on his fastball," Cliburn said. "They don't really barrel him up that much. He must have pretty good spin rate on his fastball ... When he struggles with that fastball, he gets them out with his changeup and, pretty much, breaking ball."
After a 1-2-3 first, Gonsalves did not work a clean inning until the fifth -- stranding the bases loaded in the third by getting Phillip Ervin to bounce into a forceout. After recording two quick outs in the sixth, he got ahead of D.J. Peterson, 0-2, but walked him on four straight pitches. He wrapped up his outing by punching out Steve Selsky.
Gonsalves exited a scoreless tie as rehabbing Reds right-hander Homer Bailey (2-2) matched zeros through seven innings. The 32-year-old has not pitched in the Majors since May 28 due to right knee discomfort but was stretched to 110 pitches, 67 for strikes, while yielding four hits and three walks with three strikeouts.
"Anytime you're a opposing ... a Major League rehab guy ... and you're the opposing pitcher, you want to match him up," Cliburn said, noting that Twins right-hander Ervin Santana is on a rehab assignment with the Red Wings. "I think that's what Stephen did tonight and kept us in the game. ... They can learn a lot watching those guys."
Ervin drove in both runs for the Bats with singles in the seventh and ninth.
Gerard Gilberto is a contributor to MiLB.com. Follow and interact with him on Twitter, @GerardGilberto4.