The Road to The Show™: Brailyn Marquez
Cubs No. 2 prospect has risen steadily toward Major Leagues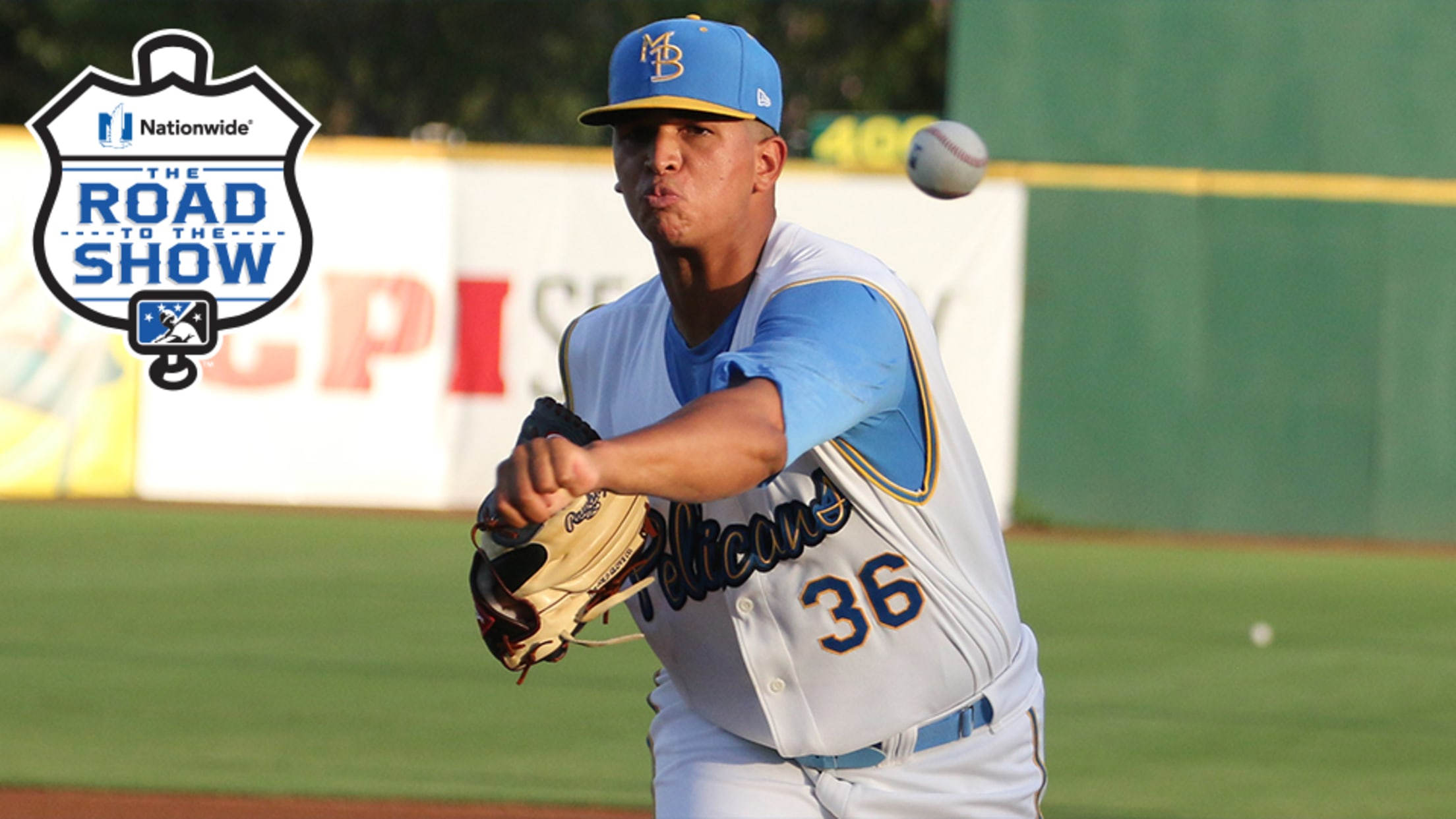 Brailyn Marquez has logged a 3.19 ERA over four Minor League seasons. (Larry Kave/Myrtle Beach Pelicans)
Each week, MiLB.com profiles an elite prospect by chronicling the steps he's taken to reach the brink of realizing his Major League dream. Here's a look at Chicago Cubs left-hander Brailyn Marquez. For more player journeys on The Road to The Show, click here. To this point in the shortened
Each week, MiLB.com profiles an elite prospect by chronicling the steps he's taken to reach the brink of realizing his Major League dream. Here's a look at Chicago Cubs left-hander Brailyn Marquez. For more player journeys on The Road to The Show, click here.
To this point in the shortened 2020 season, one of the biggest storylines surrounding the Cubs has been the dominance of their pitching rotation, which sits comfortably among the top units in the baseball. But even though the pack is led by veterans, Chicago has at least one young hurler waiting in the wings to carry the torch to the next generation.
Cubs No. 2 prospect Brailyn Marquez is the only pitcher among the club's top five prospects and, at No. 75 overall, is one of three Chicago youngsters in MLB Pipeline's list of Top 100 prospects. The 21-year-old southpaw has dazzled in each of his four pro seasons and appears on course to arrive at Wrigley Field before long. He's yet to pitch above the Class A Advanced level, however, so while he's part of the club's 60-man player pool, he'll likely have to wait until 2021 to get back on that trajectory.
2016 (Rookie-level DSL Cubs)
The Cubs signed Marquez out of the Dominican Republic in the summer of 2015, but he didn't take the mound as a pro for almost a full year later. He finally debuted on June 10, 2016, allowing two runs over four innings as a 17-year-old in the Dominican Summer League.
He continued that success over the rest of his first go-round as a professional, making 12 starts that summer and posting a 1.48 ERA that would have ranked ninth on the circuit if he had enough innings to qualify. He never allowed more than two earned runs in an outing and ended up yielding nine runs over 54 2/3 frames. He recorded 48 strikeouts and issued 23 walks for a 1.23 WHIP.
2017 (Rookie-level AZL Cubs)
Marquez made it stateside in his second year in the Minors, but he was still confined to complex ball as he matured physically and as a pitcher. His time in the Arizona League actually marked his worst season statistically as his ERA jumped to 5.52 and his WHIP rose to 1.41.
While those numbers may look bad, he showed improvement in some areas. In 11 appearances, including nine starts, Marquez struck out 52 and walked only 12 over 44 innings. That was a sign that while he struggled at times, his stuff was progressing.
2018 (Class A Short Season Eugene, Class A South Bend)
The beginning of the Northwest League campaign marked the first for Marquez above Rookie level. He started the summer in Eugene, where he was brought along slowly initially before kicking into full gear after a couple of starts.
The then-19-year-old allowed just one earned run in each of his first five appearances, netting him a 2.08 ERA. He gave up two earned runs over five innings on July 22 against Tri-City and followed that with an outlier performance in which he was shelled for six runs in 4 1/3 frames against Vancouver. He steadied the ship after that, though, allowing only four runs over 16 2/3 innings in his final three NWL starts.
Marquez was promoted to South Bend at the end of August and made two Midwest League starts before the season ended. In his Class A debut against Fort Wayne on Aug. 26, he was reached for two earned runs on five hits over five innings, then tossed two scoreless frames against Great Lakes to wrap the campaign. He put up a composite 3.13 ERA and averaged 9.7 strikeouts per nine innings.
2019 (Class A South Bend, Class A Advanced Myrtle Beach)
While Marquez had played professional ball for three years, 2019 was his first full Minor League season. He began it back in South Bend and was great from the jump, allowing two runs or fewer in five of his first six starts.
He struggled a bit around the time the calendar flipped from May to June but recovered to ride out the rest of the summer in style as he lowered his ERA from 4.83 to 3.61 in a month and a half. He capped his time in South Bend with a pair of six-inning gems: on July 25, Marquez struck out 14 and allowed just one hit against Lake County and on July 31, he dealt six no-hit frames with eight punchouts against West Michigan to earn a promotion to Myrtle Beach.
The southpaw may have jumped to a higher level of competition, but it did nothing to halt the momentum he'd built in the Midwest League. In his Carolina League debut on Aug. 6, Marquez dealt five no-hit innings and fanned four against Winston-Salem, extending his streak to an astonishing 13 hitless frames. He followed that with four strong outings to end the season, finishing with a 1.71 ERA with the Pelicans and a 3.13 clip overall.
In a normal 2020 season, Marquez likely would've returned to Myrtle Beach with the chance to rise quickly to Double-A Tennessee. If he thrived there, he'd have been knocking on the door of Triple-A Iowa and could have been in line to reach the North Side as early as 2021.
Even though he's not going to get that chance, 2020 is far from a lost year for Marquez. His work at the Cubs' alternate training site in South Bend will prove pivotal in continuing his development and, if he performs well there, he actually could find himself ahead of where he would've been had Minor League games been played as usual.
Jordan Wolf is a contributor to MiLB.com. Follow him on Twitter: @byjordanwolf.