Guerrero Jr., Bichette lead flock of Blue Jays
Dynamic infield duo, deep rotation help Dunedin capture FSL title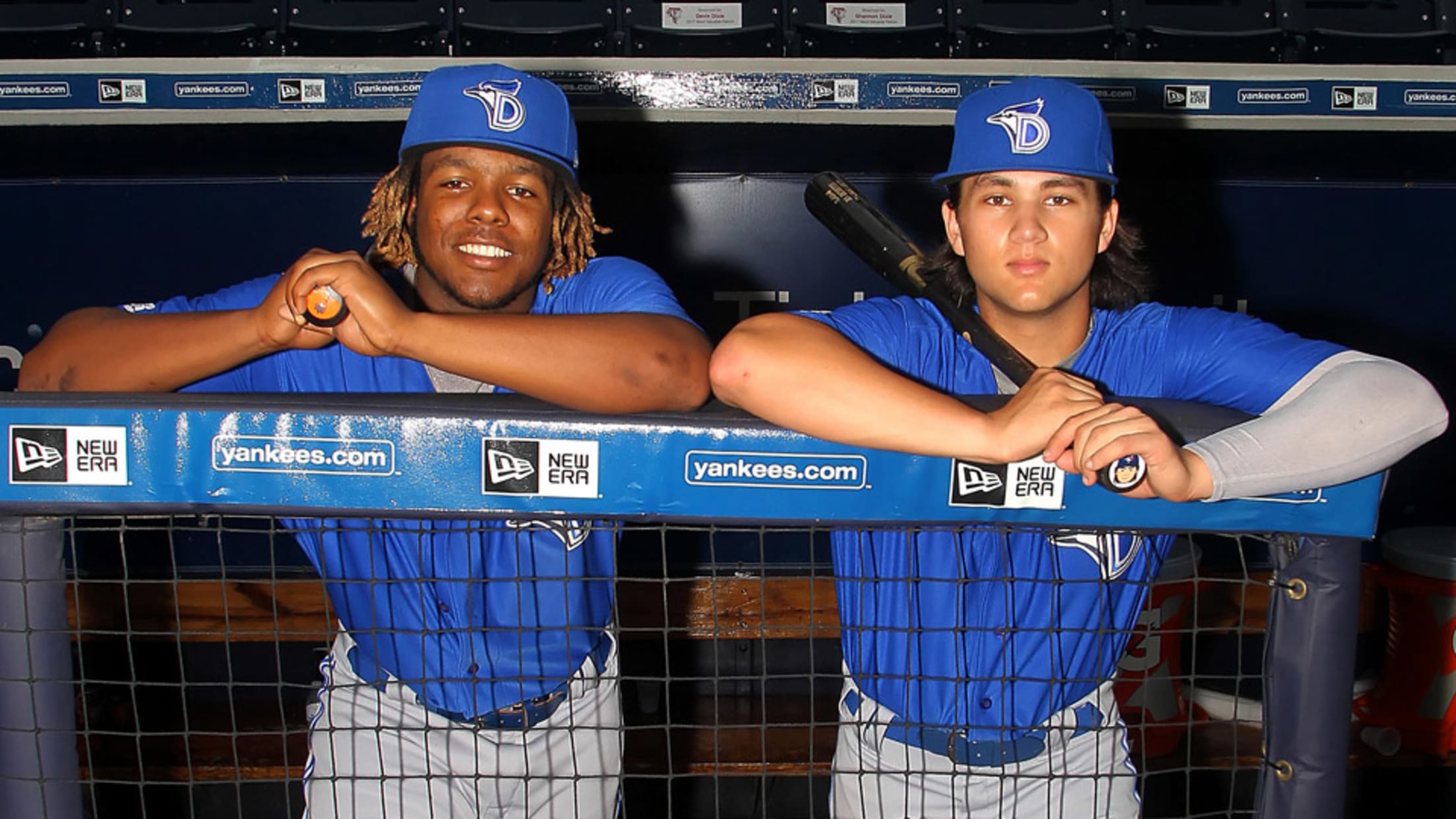 Vladimir Guerrero Jr. and Bo Bichette played 100 games together in 2017, including the Florida State League playoffs. (Cliff Welch/MiLB.com)
This offseason, MiLB.com is taking a look at the most outstanding campaigns by players in each system across Minor League Baseball and honoring the players -- regardless of age or prospect status -- who had the best seasons in their organization.John Schneider was drafted by the Blue Jays, spent his
This offseason, MiLB.com is taking a look at the most outstanding campaigns by players in each system across Minor League Baseball and honoring the players -- regardless of age or prospect status -- who had the best seasons in their organization.
John Schneider was drafted by the Blue Jays, spent his entire playing career in the organization and has managed Toronto prospects for nine seasons. He's excited about the current state of his system.
As the skipper of Class A Advanced Dunedin, Schneider saw his fair share of talented Blue Jays prospects in 2017. Led by Vladimir Guerrero Jr. and Bo Bichette -- the club's top two prospects -- the squad secured a share of the Florida State League championship. Class A Short Season Vancouver captured the Northwest League crown, while Rookie-level Bluefield made the Appalachian League playoffs, showing that success is growing with the organization's younger prospects.
"I think the last two [Drafts], in particular, have brought in some pretty good, fresh, young talent into the system," Schneider said. "Whenever you talk about that, the first two guys people talk about are Bo and Vladdy. Both had outstanding years for their first full season. When you get a couple guys like that, with the notoriety they got in the [All-Star] Futures Game and all that, it gives the organization a little bit of a shot in the arm. It starts with good drafting and then us as development, we try to just keep on that same path."

Blue Jays Organization All-Stars
Catcher -- Danny Jansen, Dunedin (31 games), New Hampshire (52 games), Buffalo (21 games): This was the first season in which Jansen was fully healthy, and he took advantage of it. The 22-year-old hit a career-best .323/.400/.484 with 10 homers and 48 RBIs while earning two midseason promotions.
"He's always been a blue-collar type of catcher behind the plate," Schneider said. "Pitchers love throwing to him, managers love having him on their team. And I think what really set him apart this year was just having a consistent offensive approach, knowing what worked for him and really sticking to it."
Jansen still has work to do behind the plate after throwing out 24 percent of attempted basestealers, though he was charged with only four passed balls.
First baseman -- Ryan Noda, Bluefield (66 games): The Blue Jays selected Noda in the 15th round of last year's Draft, but it wasn't long before he was outperforming higher picks. The left-handed hitter led the organization with a .364 average while totaling 28 extra-base hits. Along with the notable average, Noda topped the Appalachian League in walks (59), on-base percentage (.507) and slugging (.575), amounting to a 1.082 OPS.
While he spent most of his time at first, the University of Cincinnati product played 12 games in the outfield, creating versatility down the road.
Second baseman -- Tim Lopes, New Hampshire (128 games): On Sept. 30, 2016, Lopes was announced as the player to be named in the Mariners' trade for Pat Venditte. After the move, the California native repeated Double-A but got a fresh start in a new league.
With the Fisher Cats, Lopes batted .271 while achieving career bests with seven jacks and 50 RBIs. He also stole 19 bases in 28 chances. The 23-year-old is another versatile option as he played 52 games at third base and two at shortstop.
Third baseman -- Vladimir Guerrero Jr., Lansing (71 games), Dunedin (48 games): At the age of 18, Guerrero Jr. lit up the system. The Montreal native took the talent he inherited from his dad and added his own flare, posting a .323/.425/.485 slash line in his first full Minor League season.
Guerrero Jr. earned a trip to the Futures Game en route to collecting 13 long balls and a system-leading 76 RBIs across both Class A levels.
"The impressive thing about Vladdy is just the way he goes about his work every day, the way he shows up at the field every day," Schneider said of MLB.com's No. 4 overall prospect. "He's got a smile on his face, ready to work. That rubs off on his teammates, and for a young kid, an 18-year-old kid, to not only do the things he did on the field, but the way he went about it in the clubhouse, on the back fields, in the cage, all that stuff is pretty impressive."
Shortstop -- Bo Bichette, Lansing (70 games), Dunedin (40 games): Usually when people start talking about Guerrero Jr., it isn't long before Bichette is named. The 19-year-old advanced with the third baseman across both levels and played in the Futures Game as the duo continued to pave their way toward an exciting future in Toronto. Bichette led full-season Blue Jays prospects with a .362 average while ranking fourth with 14 homers and second with 74 RBIs, earning the MiLBY for Best Offensive Player.
While Schneider was impressed with Bichette's work at short, he noted that MLB.com's No. 26 overall prospect still has room to improve after committing 23 errors.
"He gets a lot of publicity about his offensive numbers and rightfully so, but this dude can play short. And he wants to play short in the big leagues," the manager said. "With Bo, defensively it's making the routine play and just a few things here or there on a couple plays, whether it's coming in or backing up, plays that he's been working on and just polishing up his overall game."
Outfielders -- Edward Olivares, Lansing (101 games), Dunedin (19 games): In his first full season, Olivares put his power on display. The 21-year-old drilled 17 roundtrippers to rank second in the system while driving in 72 runs. He also used his above-average speed to swipe 20 bases in 29 attempts across two levels. While the production slowed a touch when the Venezuela native got to the Florida State League, Schneider thinks it was just the product of a long season.
"We all know Eddy's almost or [is] a five-tool player -- he can do a lot of things," the skipper said. "You see speed, you see power, you see athleticism, you see a great throwing arm. So all the tools are there for him. Really excited to see what he does next year, building off a really good first full season."
Connor Panas, Dunedin (114 games): Schneider has had the opportunity to watch Panas grow since the pair was with Vancouver in 2012. During that time, the manager has enjoyed seeing the Toronto native develop his swing and improve his defense.
"Big, strong kid, plenty of power and really figured out how to put himself and put his body in a better position to hit this year without sacrificing that power," Schneider said. "So it was a fun year to watch him do his thing."
After a tough first half -- he hit .248 with four homers in 43 games -- Panas took off. The left-handed hitter recorded personal bests with a .276 average, 18 long balls, 55 RBIs and an .839 OPS.
Anthony Alford, Dunedin (six games), New Hampshire (68 games), Buffalo (three games), Toronto (four games): While Alford's development got off to a slow start -- he played at three levels in his first five years -- he made up for it this year. Missing seven weeks with a wrist injury, the Blue Jays' No. 3 prospect batted a career-best .299 with 20 extra-base hits and 19 steals in 22 tries.
On May 23, Alford collected his first Major League hit, then broke the hamate bone in his left wrist and went on the disabled list. The Ole Miss product began a rehab stint with Dunedin on July 12 and was back with Double-A New Hampshire nine days later. After ending the season with Triple-A Buffalo, Alford has been competing in the Mexican Pacific League this offseason.
Honorable mention:Roemon Fields led Blue Jays Minor Leaguers with 50 steals in 64 attempts with New Hampshire and Buffalo.
Utility -- Juan Kelly, Dunedin (130 games): Anywhere the Blue Jays coaches put Kelly in 2017, he flourished. The 23-year-old played 85 games at first base but also spent a lot of time at third and took reps behind the plate and in left field. And as a switch-hitter, he was considered "matchup proof" against tough FSL pitchers.
"For one, he's a really good athlete and two, he's very, very durable; he takes great care of himself off the field," Schneider said. "We've kind of pigeonholed him to the corners in the infield, but he caught a few games this year, we threw him in the outfield -- he can do it all. If you're there watching [batting practice], he's probably all over the diamond at some point: second base, turning double plays, or in the outfield or wherever it is."
Right-handed starting pitcher -- Jordan Romano, Dunedin (28 games): In his first three pro seasons, Romano has held his own among the organization's top pitching prospects. A native of the Toronto suburb of Markham, he went 7-5 with a 3.39 ERA, 138 strikeouts and 54 walks in 138 innings.
"Jordan is a big, strong dude, plenty of velocity, wipe-out slider and [he's] really trying to work on that third pitch to get him through the batting order a few times," Schneider said. "But to watch him mature as a pitcher and to understand that he doesn't need to throw as hard as he can every pitch and try to strike everybody out, that's really what got him going on the right foot this year."


Left-handed starting pitcher -- Ryan Borucki, Dunedin (19 games), New Hampshire (seven games), Buffalo (one games): While Borucki has always had a dominant changeup, he's developed a couple new ways to fool hitters.
"[He] really trusted his slider and learned how to pitch down in the zone with his fastball," Schneider said. "So he was getting by the last couple of years with a really good changeup and he still has that, but now you add in better command of his fastball and a better slider, and he's doing pretty well."
With the more varied arsenal, Borucki led the system with 157 strikeouts. The 23-year-old was 8-8 with a 2.93 ERA, 1.12 WHIP and 36 walks over 150 innings as he finished the season at the Minors' highest level.
Relief pitcher -- Jackson McClelland, Lansing (16 games), Dunedin (29 games): McClelland got off to a dominant start in the Midwest League, notching a 1.80 ERA in 16 games, but after a June promotion to the Florida State League, he got even better. In total, the Pepperdine product went 3-4 with a 1.34 ERA, 42 punchouts and 18 walks over 43 2/3 innings. McClelland converted an organization-best 15 saves in 16 chances.
"To his credit, he retooled his delivery last year, and he's got a tremendous sinking fastball -- 95, 96, 97. He's not afraid, he's got the mentality of a reliever, so he's coming right at you," Schneider said. "When it's on, he's got a plus slider, too. So when you got a good, sinking fastball and a hard breaking slider, it makes it pretty tough on those hitters when they're trying to get on base."
Kelsie Heneghan is a contributor to MiLB.com. Follow her on Twitter @Kelsie_Heneghan.