Young Goes Yard To Down Biscuits, 4-2
Jeffrey Passantino Collects Win In Debut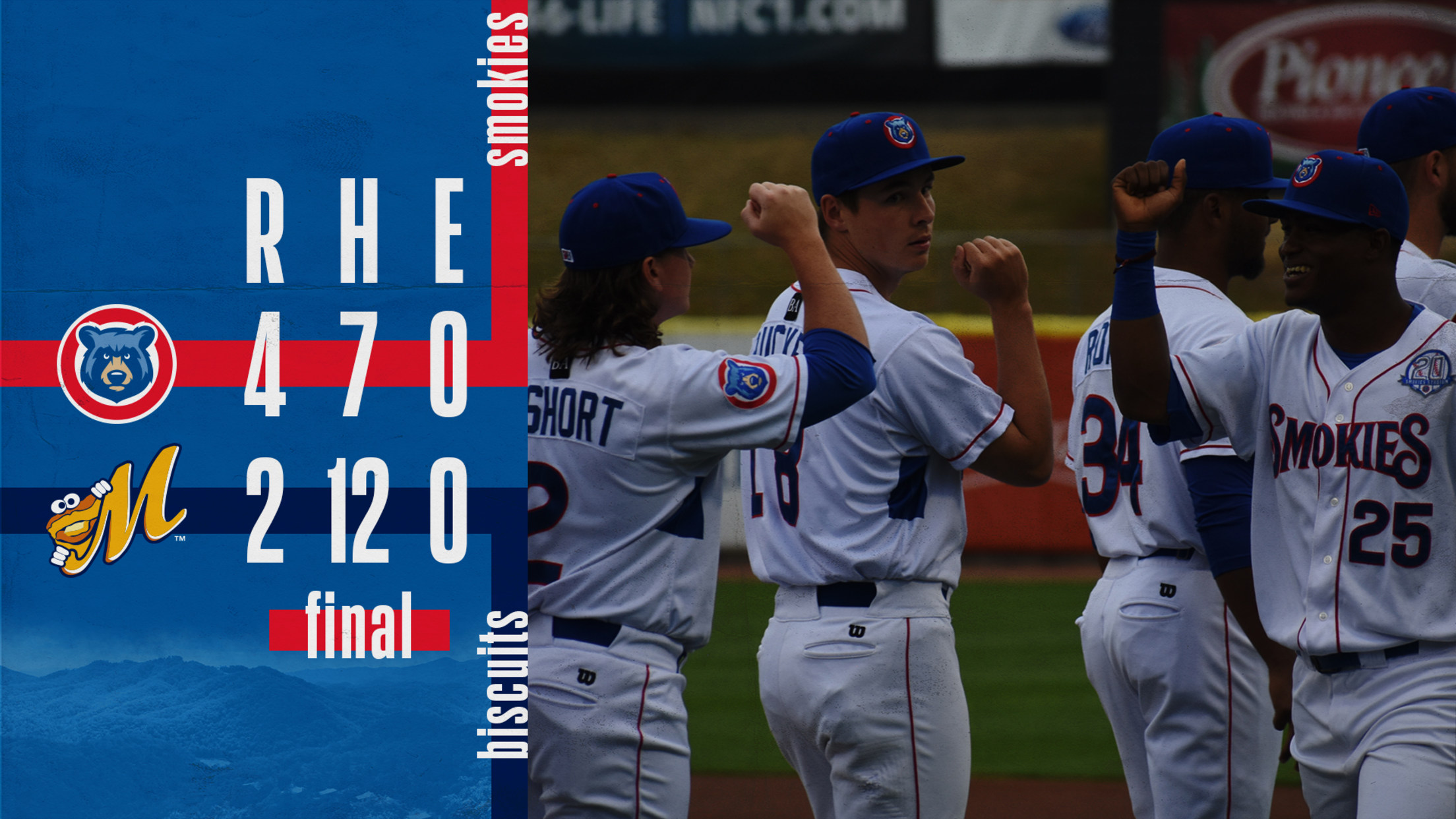 MONTGOMERY, AL - The Tennessee Smokies (40-46, 7-10) generate early offense to triumph over The Montgomery Biscuits (53-34, 9-8), 4-2 Saturday night at Montgomery Riverwalk Stadium. Wynton Bernard continued to swing a hot bat with his second three-hit ballgame since joining the Smokies on 6/25.The Smokies offense jumped all over Biscuits
MONTGOMERY, AL - The Tennessee Smokies (40-46, 7-10) generate early offense to triumph over The Montgomery Biscuits (53-34, 9-8), 4-2 Saturday night at Montgomery Riverwalk Stadium. Wynton Bernard continued to swing a hot bat with his second three-hit ballgame since joining the Smokies on 6/25.
The Smokies offense jumped all over Biscuits starter RHP Riley O'Brien (L, 4-6) to start the party in the first inning. Both Bernard and Nico Hoerner reached base to set up a three run blast by Jared Young that bounced off the top of the wall in left field. The early long ball marked Young's fourth of the season and the first time the Smokies scored the first run in the series.
Both sides traded a pair of runs in back-to-back frames. Following Kevin Padlo's leadoff single in the fourth, Brett Sullivan cranked his second extra base hit of the game with a triple to get Montgomery on the board. The Smokies answered in the top of the fifth courtesy of a Charcer Burks sacrifice fly to bring in Young and make the score 4-1.
The Biscuits chipped away at the Smokies lead once again in the fifth. Jesús Sánchez collected an RBI with a line drive single that split the infield to score Taylor Walls to run the score to 4-2.
RHP Jeffrey Passantino (W, 1-0) impressed in his Smokies debut. The 40th round pick by the Chicago Cubs in 2017 pitched five solid innings while only giving up just two runs to earn the win. His Tennessee debut made it the fourth Cubs affiliate team that Passantino has appeared for this season.
Both Michael Rucker (H,4) and Jordan Minch (S,2) combined for four shutout innings to secure a 4-2 win for the Smokies, snapping their six game losing streak at Riverwalk stadium.
The Smokies continue their series with Montgomery Sunday night. RHP Alex Lange (2-0, 2.50) looks to make his fourth quality start in a row for the Smokies, while Montgomery turns to RHP Paul Campbell (3-1, 3.41) to make his sixth start of the season. First pitch is scheduled for 6:05 PM ET.