Zeros piling up for Red Wings' Gonsalves
Twins No. 4 prospect scatters five hits in seven scoreless innings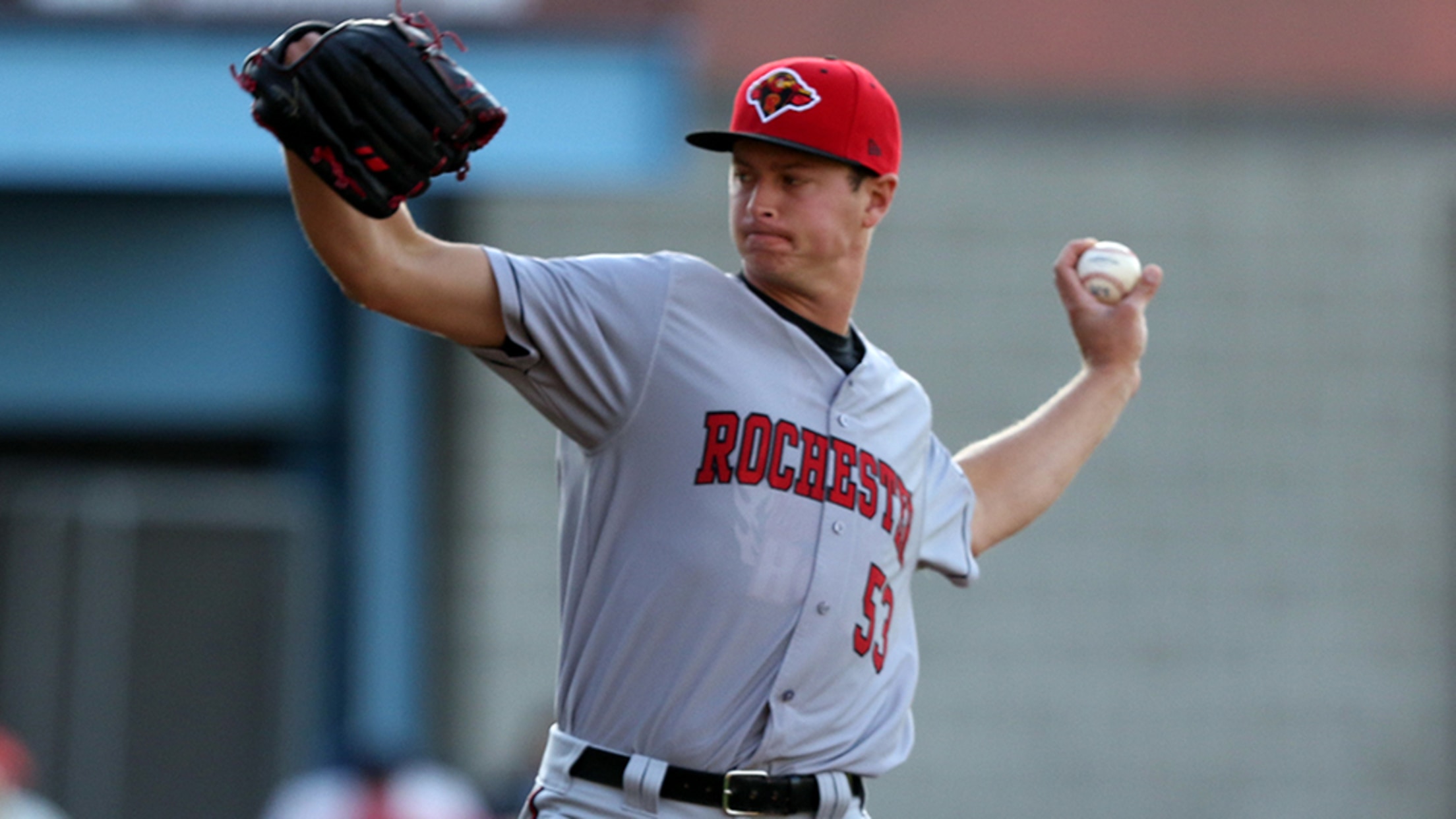 Stephen Gonsalves has surrendered two runs over his last 44 1/3 innings for the Red Wings. (Louriann Mardo-Zayat)
Lessons learned in struggles often lead to success and there is no better example of that at the moment than Stephen Gonsalves.Minnesota's No. 4 prospect scattered five hits over seven innings during his first walk-free outing of the season as Triple-A Rochester blanked Indianapolis, 2-0, on Tuesday night at Victory
Lessons learned in struggles often lead to success and there is no better example of that at the moment than Stephen Gonsalves.
Minnesota's No. 4 prospect scattered five hits over seven innings during his first walk-free outing of the season as Triple-A Rochester blanked Indianapolis, 2-0, on Tuesday night at Victory Field.
Gonsalves struck out four and hasn't allowed more than one run in seven consecutive starts, but it was the absence of walks that pleased the hurler in his latest appearance.
"That was huge for me," he said. "I was able to throw a lot of strikes, and I think tonight was the first time I've had good fastball command in more than a month. I've been able to throw a lot of zeros up there, but I've been walking too many."
MLB.com's No. 72 overall prospect gave up a single to Adam Frazier in the first inning, but helped himself by picking off the second baseman, who was caught stealing second. Gonsalves (7-3) pitched through a pair of hits by seventh-ranked Pirates prospectKevin Kramer and No. 19 Jason Martin in the second, retired the side in order in the third and worked around another single by José Osuna in the fourth. But the 24-year-old saved his best pitching to escape a jam in the fifth.
Gameday box score
Martin led off the frame with a triple to right field. It was the first extra-base hit allowed by the southpaw in more than six starts spanning 153 batters. He wriggled his way out of trouble by getting Jackson Williams to bounce into a fielder's choice to third baseman Miguel Sanó, who threw out Martin attempting to score. Gonsalves then retired the last two batters of the frame to keep Indianapolis off the scoreboard. He set down the last nine he faced and threw 68 of his 98 pitches for strikes.
"I threw two bullpen sessions since my last start to work on my fastball command," Gonsalves said. "I made some good strides and tonight it showed. My off-speed stuff -- slider, curve and change -- have been working well and helping me get through five [innings], but that's not the goal. Getting as deep into the game as possible is what we all aim for, and tonight I accomplished that."
The San Diego native began the year with Double-A Chattanooga and was promoted to Rochester on April 27. He surrendered one run in his first two starts for the Red Wings before struggling to a 9.27 ERA over his next six outings, culminating in a June 11 start in which he was tagged for nine runs in four innings against Scranton/Wilkes-Barre. But Gonsalves has yielded two runs across 44 1/3 frames in his last seven starts to drop his International League ERA to 3.04. Overall, he is 10-3 with a 2.77 ERA in 19 starts between the Lookouts and Red Wings.
"I don't think I've been in a stretch as good as this," the 2013 first-round Draft pick said. "I was effectively wild, and in a way, I guess guys didn't know what was coming. But it was forcing me to throw a lot of changeups in 2-0 and 3-0 counts to keep them off balance. But I'd rather be giving up hits than walks. That's a non-competitive at-bat. The last thing I want to do is let a hitter win just by keeping the bat on his shoulder."
One glaring difference between Tuesday's outing and the previous 18 starts was his control. Gonsalves came into the game averaging a career-worst 5.59 walks-per-nine innings, including five in his last start. But for the first time since last Aug. 10 -- a span of 22 outings -- he did not issue a free pass.
"My fastball has been sitting higher than normal and I haven't been finishing those pitches," he said. "During my BP sessions, we brought the catcher in front of the plate and I made it my goal to see how many times I could hit him in the knees. For the most part, my fastball has been at the eyes of the hitters, and they're not going to swing at that. Tonight, I got it down. It was a nice step forward."
D.J. Baxendale and Alan Busenitz allowed two hits and struck out two over the final two frames to complete the Red Wings' ninth shutout of the season.
Edgar Corcino and Sano contributed RBI singles for Rochester.
Indianapolis starter Brandon Waddell (4-5) allowed one run on six hits in six innings. Pittsburgh's 24th-ranked prospect walked three and struck out three.